On-Demand Webinar
Announcing the New Chef Partner Program
Watch the on-demand webinar to know hoe to engage with Chef for new go-to-market benefits
We're excited to share the new ways you can collaborate with Chef to level up your business. We'll share the new partner program components, tiers, and opportunities. Plus, we'll even give some concrete examples of partners already going to market with Chef-ready solutions.
In this webinar, Vikram Ghosh, Vice President of Business Development at Chef, will show you how, with Chef's 100% open source product line, it's easier for you to partner with Chef for full-stack success in the enterprise.
Our new, revamped Chef Partner Program (CPP), makes it easier to work with us, gain market visibility, and more business. You'll find ways to engage across the sales and implementation process on the full technology stack.

Watch the on-demand webinar to learn how to:
Engage with Chef for new go-to-market benefits
Leverage Chef's 100% open-source product line for deeper enterprise engagements
Use the new Chef Partner Program today

Presented By: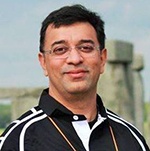 Vikram Ghosh
VP of Business Development
Progress Software
Register Now