On-Demand Webinar
Level Up with Chef Effortless Infrastructure
Your Guide to Effortless Config and Audit
More and more organisations are migrating large, legacy, on-premise infrastructures to the cloud, containers, and hybrid solutions, while simultaneously modernising their workflows and processes to take advantage of DevOps practices.
Chef's Enterprise Automation Stack combines Chef Infra, Chef InSpec, and Chef Habitat, and is designed to give our customers a reference architecture to turbocharge these initiatives, which enables them to maximise the value they are able to drive using our products.
In this webinar, Jon Cowie, Chef's Principal Customer Architect, will dive into how each functions and how they can be combined to empower your infrastructure transformation projects. Register today to find out how your organisation can use these patterns to drive towards transforming your infrastructure and processes!
Watch on-demand to learn how to:
Maximise the value you gain from Chef's Enterprise Automation Stack
Incorporate Chef's Enterprise Automation Stack in a modern DevOps workflow
Drive continuous compliance to enable your organisation to become a coded enterprise
Presented By: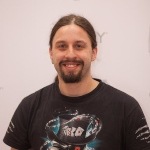 Jon Cowie
Principal Customer Architect
Progress Software
Register Now