On-Demand Webinar
Configure Chef Infra & Compliance Using Built-In Functionality
Chef Infra Quickfire Series: Get Your Infra Automation in Shape
Driving value in today's agile world is all about constant improvement. Those that lead their industries recognize the areas of their business where "good enough" is no longer good enough and put a plan in place to change. Automation is no different. Unmanaged automation can become bloated, brittle, and hard to maintain. But the good news is getting and keeping your automation in shape doesn't have to be hard – a little effort goes a long way!
In the second session of our quickfire webinar series, Tim Smith will continue walking us down the path towards getting your Chef automation tools in shape. You don't want to miss this webinar to learn how you can configure both Chef Infra and Chef Compliance using the functionality they already provide. If you're looking to get your automation in shape and get more out of your existing Chef investments, don't miss this webinar happening live on Thursday, February 25th at 11:30am PT.
Spoiler alert! A few of the topics to be covered include:
Register now for live Q&A, and save your seat in our upcoming session!
Presented By: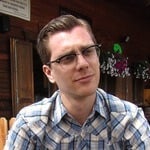 Tim Smithh
Product Manager, Chef Infra
Progress Software
Register Now