Eric Wolfe received a Commodore 128 computer when he was just five years old and quickly became fascinated with playing games on this new machine. The joys of tinkering with that old Commodore took him through the next decade. Years later, when he finally got a Windows computer, he learned everything he could about DOS and Windows.
From there, learning Linux was the next logical step in Eric's lifelong love affair with games and computing technology. Eventually leading to a career managing Linux server systems, and contributing and participating in the Open Source ecosystem.
"It all started with gaming for me, but once I got into Linux, I was really hooked. I've been using it for 17 years and I'm still learning new things. It's a truly fascinating operating system, which still challenges me after all this time." Eric explained.
His passion for Linux growing with each new discovery, Eric began attending Ohio LinuxFest, sharing tips, tricks, and surprising finds with the many Linux enthusiasts attending the event each year. In 2009, he heard a presentation about Chef, which struck a chord because, Eric, who had by then taken over system administration at Marshall University, was in the market for a better configuration management tool.
"There wasn't anything on the market that had the flexibility I needed. Our environment at Marshall had started to grow considerably and automating configuration consistently, was a must. Chef was in Ruby, which was quite easy to pick up and learn quickly. The community was friendly and welcoming, so I suspected this project would grow quickly and be around for the long term."
However, Chef was in its very early stages in 2009, and Eric couldn't find many resources for RedHat Enterprise Linux. So, he created them himself.
"We ran RedHat and there wasn't much out there for RedHat at the time, especially as the Community had just begun to come together. So I wrote some Cookbooks myself and open sourced them. The feedback was immediate. The IRC lit up! Everyone had similar challenges and different ideas – it led to a lot of awesome collaboration. I have contributed to over 50 community cookbooks, and roughly 20 of those are personally maintained."
Some of Eric's most notable contributions include the Cookbooks gitlab, nfs, and certificate.
Of course, creating and contributing Cookbooks isn't where the Chef Community ends for Eric. As he said:
"There are a lot of ideas exchanged at the Summits, but there is also a social aspect to them. Friendships are formed, trust between individuals and organizations are strengthened, and I think that helps to drive the product and community forward."

He continued: "At the first ChefConf, I sat down beside a random person before a keynote was about to begin. I saw them working with SSL certificates and keys, and so I ask, 'Are you using the certificate cookbook?' 'Of course,' they replied. 'Awesome, I wrote that!' I said. He expressed his gratitude, and we talked for a bit about how we were each using Chef, before the keynote began. I walked away from that interaction with social proof that this software we're building is useful, and important."

That's literally the Chef Community in action, and that is awesome.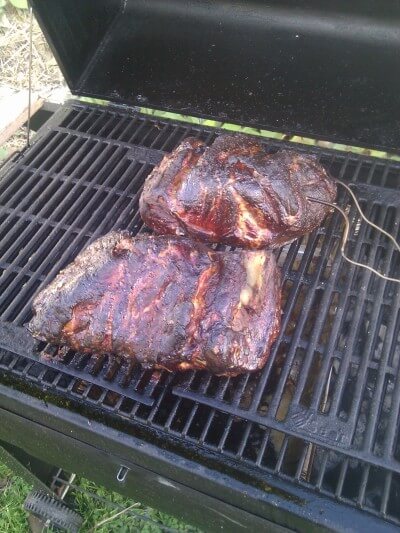 Eric's love for cooking expands well beyond Chef and into the kitchen, where he's a real-life BBQ master, treating family, friends and co-workers to pork loin, chili, ribs, pulled pork sandwiches, and too much good food to list here without making us all hungry.
Not to mention Eric's already thinking about the next generation of Awesome Chefs:
"Playing games on that Commodore way back sparked my interest in computers and I see today's gaming as a great introduction to get kids interested in computing. In fact, my niece and nephew are beginning to take an interest in computers from playing together on the computer and I hope many more of us in the community can help spread our skills to kids in the same way."
(Mmmmm… some of Eric's fine grilling on display.)