Chef Compliance
Compliance Management Automation Software with Speed and Efficiency
Maintain compliance and prevent security incidents across heterogeneous estates.
Automate and Enforce Compliance Across the Enterprise
Chef® Compliance™ makes it easier than ever to maintain and enforce compliance across the enterprise, with standards-based audit and remediation content, easily tuned baselines to adapt to the organization's needs, and visibility and control across hybrid and multi-cloud environments.
Chef Compliance Key Benefits
Streamline Audits
Gain full visibility and easily manage waivers to eliminate 90% of the time spent on audits.
Maintain Continuous Compliance
Close the loop between audit and remediation to ensure assets are always in compliance with CIS benchmarks and DISA STIGs.
Easily Meet Enterprise Needs
Leverage certified, Chef-curated audit and remediation content that is easily tuned to organizational needs.
Jump Start Compliance Automation Efforts with Chef Premium Content
Customers access Chef curated trusted content for audit that is directly aligned to CIS (Center for Internet Security) benchmarks or DISA Security Technical Implementation Guides. Also now with newly available Chef automated remediation content, organizations can ensure remediation actions align directly to audit results.
Chef Compliance: Automate Compliance and Prevent Security Incidents
Chef Compliance helps organizations streamline their ability to stand up and maintain compliant IT infrastructure, whether on premises or in the cloud. Built on technology proven at extreme scale, including Chef InSpec, Chef Compliance leverages certified, curated audit and remediation content to help organizations quickly meet industry standards such as CIS benchmarks and DISA-STIGs. The product offers flexibility to easily apply and track waivers and tune controls to enterprise-specific needs.
Chef Compliance helps across all stages of the compliance workflow:
Acquire: Customers access trusted content aligned to industry benchmarks for audit and remediation. With extensively tested, Chef curated, and CIS-certified content, organizations can get started quickly and ensure remediation actions align directly to audit results.
Define: Chef makes it easy to define compliance baselines and tune them to the organization's unique needs. Flexible compliance waiver capabilities allow teams to turn on or off individual controls in order to avoid false positives and misconfigurations.
Detect: Continuously monitor and evaluate compliance posture by detecting deviations from intended state at any point in the software delivery lifecycle.
Remediate: remediate non-compliance with policy-driven remediation capabilities that efficiently address individual controls in alignment with audit tests, encoding those fixes to enable continuous compliance. Remediation can be applied easily, without requiring coding skills.
Report: Maintain comprehensive and up-to-date visibility across heterogeneous estates, easily view differences between baseline and remediated states, and track waiver status to enable fast and accurate audits any time.
Chef Compliance Audit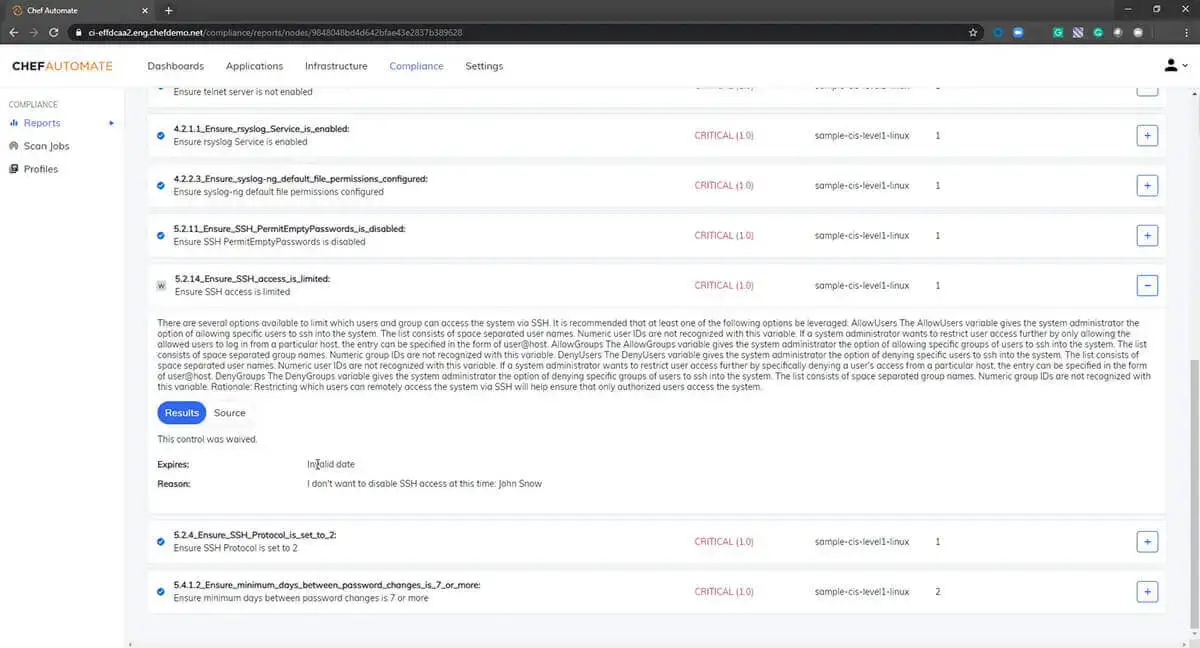 Chef Compliance Audit helps security and operations teams maintain complete visibility over the compliance status of their estate. It comes with extensive audit content based on CIS and STIG benchmarks out of the box that can be easily tuned to meet specific needs of every organization. Chef Compliance Audit provides up-to-date visibility across any on prem or cloud environment.
Automated Remediation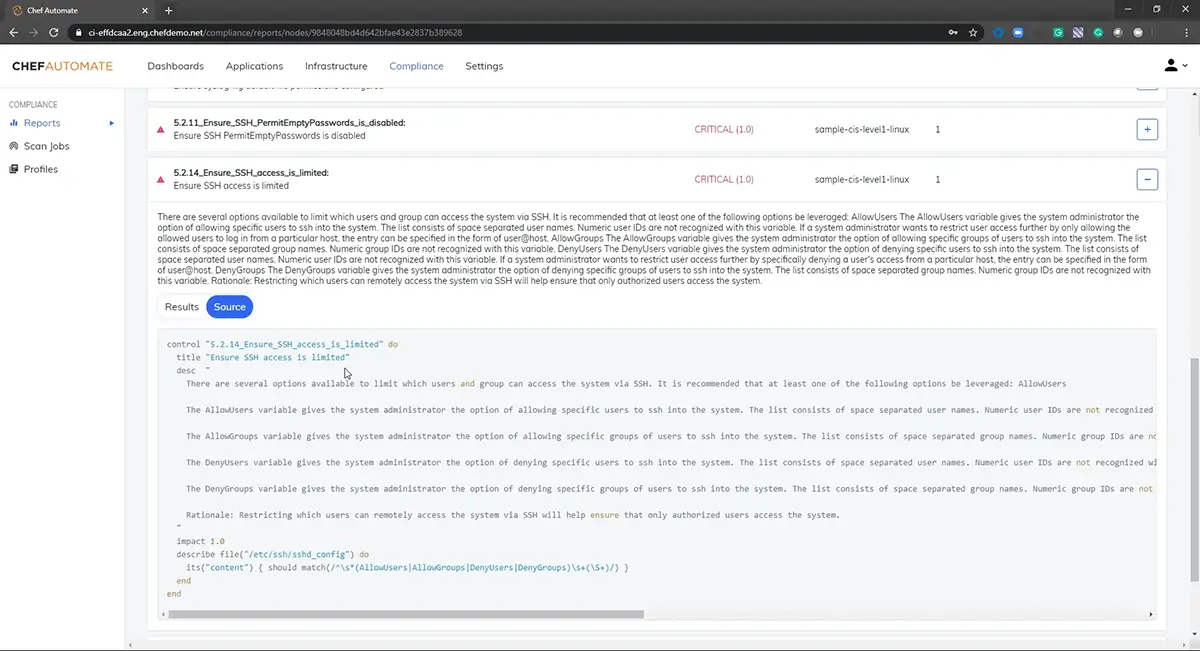 Automated remediation helps close the loop between audit and remediation to enable continuous compliance in the enterprise. New remediation functionality and trusted, standards-based content makes it easy to remediate issues uncovered during audits without writing any code.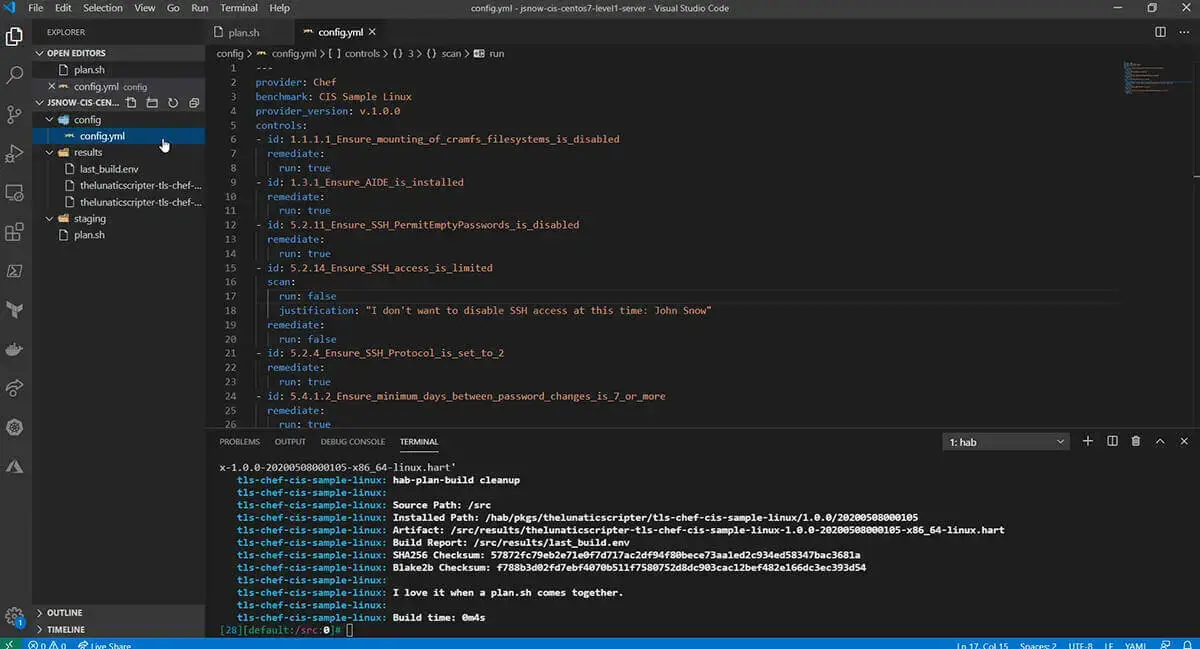 Chef Compliance also has the extensibility and flexibility to allow for customization of pre-packaged remediation content that can be modified to accommodate for corporate specific needs through code.
Chef Compliance Use Cases
Audit for Security
Continuously assess security and easily customize and update testing when new vulnerabilities are published.
Audit for Compliance
Report on compliance checks against CIS benchmarks or DISA sandards in order to maintain continuous compliance.
Continuous Compliance
Monitor and remediate any deviations to compliance posture across environments continuously.
Regulatory Compliance
Leverage predefined benchmarks or fine-tune compliance profiles to address organizational specific requirements.
Government Compliance
Predefined DISA STIG and CIS benchmark profiles help accelerate the Authority-To-Operate (ATO) in highly regulated federal organizations.
Accelerate Delivery
Deliver faster business value as infrastructure and application compliance is built into the SDLC.
Consolidated Fleet Visibility Dashboard
A specially tailored compliance centric dashboard allows organizations to gain deep insights into the state of their fleets. The Chef Compliance dashboard enables IT infrastructure and Information Security teams to maintain continuous visibility into the compliance status of the entire fleet.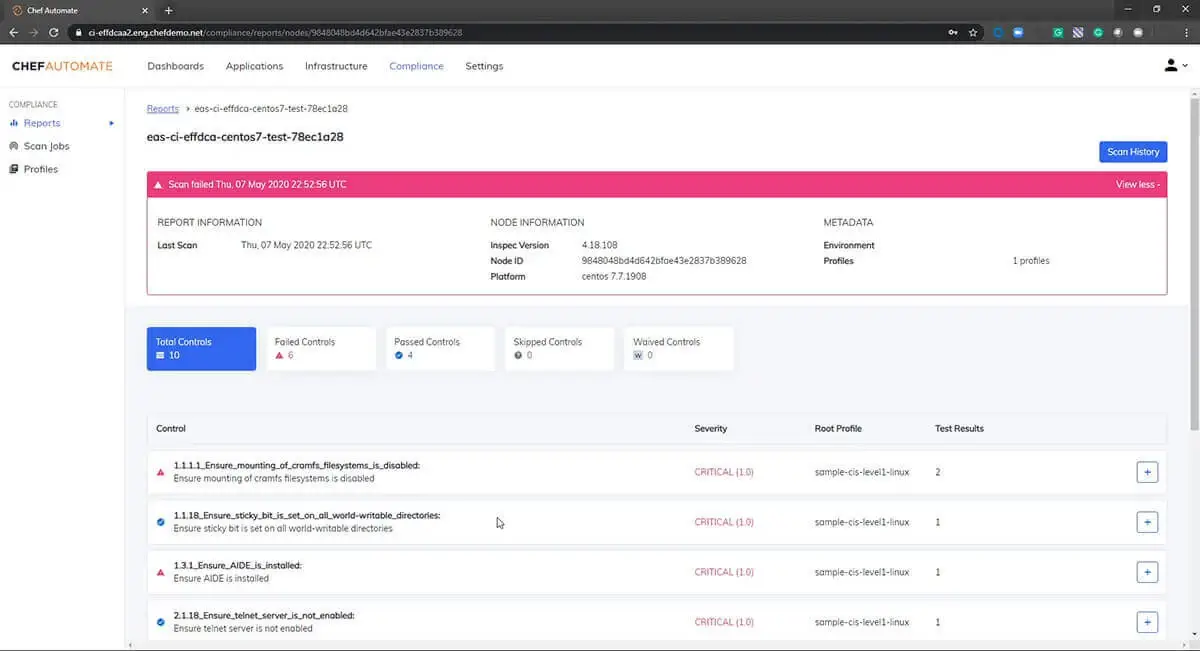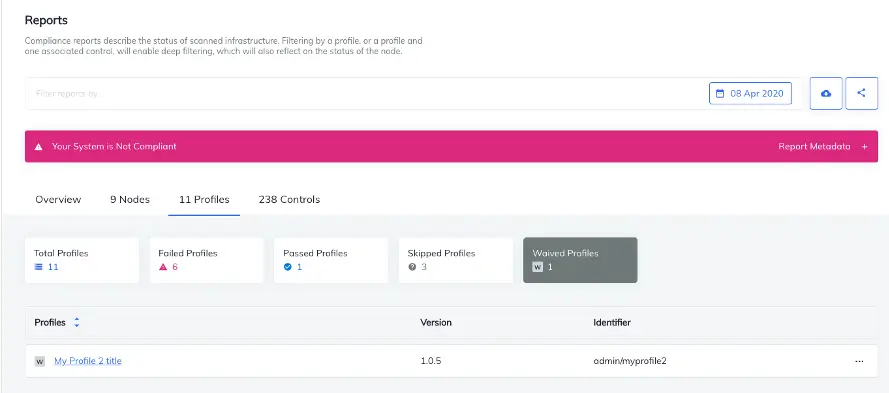 Track, Audit and Apply Waivers to Changes
Through Chef Compliance teams can audit various endpoints for compliance against CIS benchmarks or DISA standards, while viewing the aggregated compliance state of the entire fleet. Chef Compliance allows organizations to flexibly apply waivers and provide a business justification for skipped controls, with the ability to apply end dates to determine when a waiver or control should be remediated, or allow for the waiver to be permanent.
Continuous Compliance Monitoring
With Chef Compliance, organizations can consistently enforce security based on industry standards, such as Center for Internet Security (CIS) benchmarks and DISA-STIGs. Users can also create custom profiles to meet any enterprise role-specific infrastructure or compliance policies so they are able to detect security or compliance issues and automatically correct them to maintain continuous compliance.
Rapid Remediation at Scale
Chef Compliance allows for correction or remediation of configuration drifts from desired state for a single device or up to the entire fleet, from a single pane of glass. Organizations can monitor device compliance state and either automatically or as needed reconfigure the IT resource back into compliance.

Recommended Content
On-Demand
On-Demand
On-Demand
Webinar
Zero Trust and DevOps: Strengthening Cybersecurity in Complex Environments
Register