This is a guest post by Sahir Azam, Director of Product Management @ Sumo Logic.
Fellow Chef enthusiasts, we're excited to lift the covers off some of the joint work between Chef and Sumo Logic! Sumo Logic is a SaaS machine-data analytics platform that helps you monitor, troubleshoot, and secure your mission-critical applications. Over the past few months we've found that many Sumo customers rely on Chef to handle automation and configuration management in their environments. Additionally, we've also had customers use Chef to automate the deployment of Sumo Logic across their server fleet. Naturally the next step for us was to help Chef users also gain visibility into their Chef logs in order to report on key trends and get ahead of potential issues. And today, we're happy to announce Beta availability of the Chef Log Analyzer for Sumo Logic.
Our real-time dashboards are a great starting point for you to delve deeper into your rich Chef data. We remained true to our simple but powerful philosophy of having out-of-the-box search queries and dashboards to help understand key Chef KPIs such as Successful vs. Failed Runs, Top Updated Resources, and Avg. Run Times.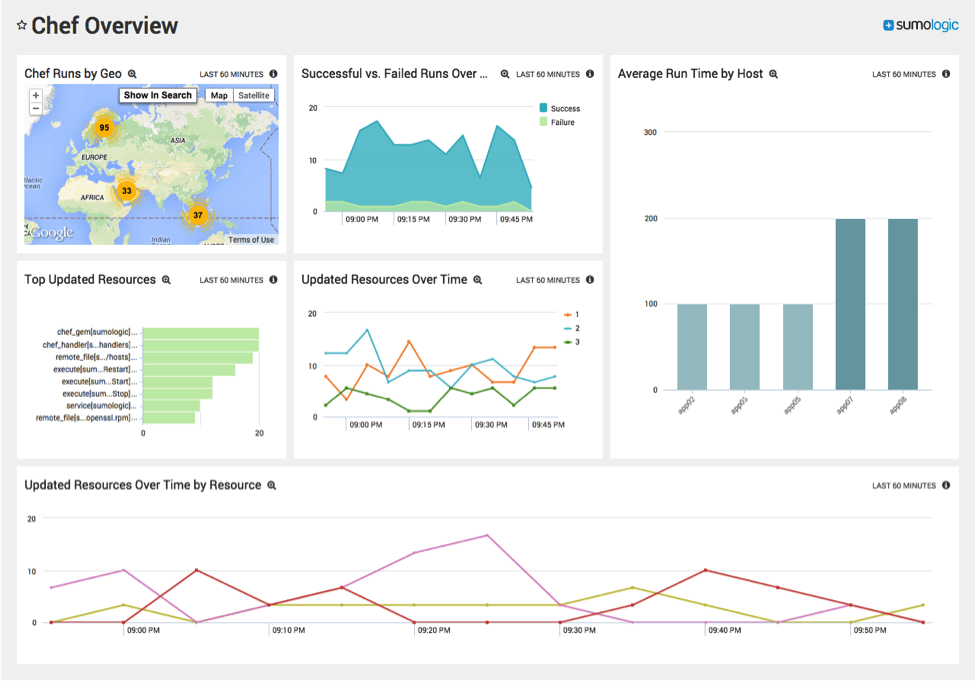 If you're interested in participating in the Beta, first sign up for a free Sumo Logic account here: https://www.sumologic.com/pricing.
Once you're up and running, send an email over to me at sahir@sumologic.com and I'll deploy the Beta app to your environment and help out with any configuration necessary to get your Chef client logs into the Sumo Logic service. Based on your feedback, we'll update and finalize the Chef App for GA release this summer!
**BONUS! Updated Sumo Logic Collector Cookbook**
We have also made the installation and ongoing management of Sumo Logic collectors easier with the updated Sumo Logic Collector Cookbook. Our original Cookbook focused on automating the initial installation and setup of the Sumo collectors across your server infrastructure. The latest update provides allows you to use Chef to manage the "source configuration" on an ongoing basis.
We hope you find the work we've been doing together at Sumo Logic and Chef valuable. The Chef Log Analyzer for Sumo Logic is an important first step in our joint collaboration. Look out for some more advanced integrations as we continue to deliver on our joint vision of analytics & automation! As always, we'd love to hear your feedback and suggestions on other key challenges we can help solve in your environment.
Thanks!
Sahir /
sahir@sumologic.com /
@sumo_sahir