It's a wrap on day one of ChefConf '21: Online, and this year's lineup of panelists and speakers certainly brought their A-game. Let's recap!

The 10th annual event kicked off with Chef and Progress leaders, community members, and customers sharing insights to help DevOps and IT folks overcome business and technical challenges.
Keynote: Community, Product improvements, and Awards
Watch this Keynote on-demand on the ChefConf site!
To start the day, I got to spend some time with Yogesh Gupta, CEO of Progress. We chatted about the challenges of bringing together the cultures of Progress and Chef, and we get to have a really honest, forthcoming talk with two long-time external community members: Brittany Woods and Lance Albertson. After that amazing conversation, we heard about the priorities for Chef from Sundar Subramanian, General Manager for the Chef Business at Progress.
Conversation with Yogesh Gupta CEO Progress Chef
From there we heard from Sudhir Reddy, VP of Engineering, about the exciting product news we've got this year. You can read more about those announcements both in today's Press Release, and on our blog.
After all of that excitement, it was back to us to announce this year's winners of the Customer & Partner awards, highlighting some of the best work over the past year. In Customer awards, the Bluestem Windows DevOps Team took home the 2021 Continuous Delivery Trailblazer of the Year award for their innovative work in secure and automated CI/CD development. The Continuous Compliance Champion of the Year award went to the Multi-Cloud team at SAP for their incredible work automating cloud compliance scans at an extreme scale.
AHEAD was named Partner of the Year, while NCS won Emerging Partner of the Year. Rounding out the Partner awards were TecRacer (Technology Partner of the Year) and TapHere! (Public Sector Partner of the Year).
Session Highlights
In the next hour, attendees heard from Brittany Woods, manager of server automation at H&R Block. In her session, "The Unofficially Official Guide for Config Management at Scale," Woods detailed the intricate process of configuration management and how it can enhance automation in organizations.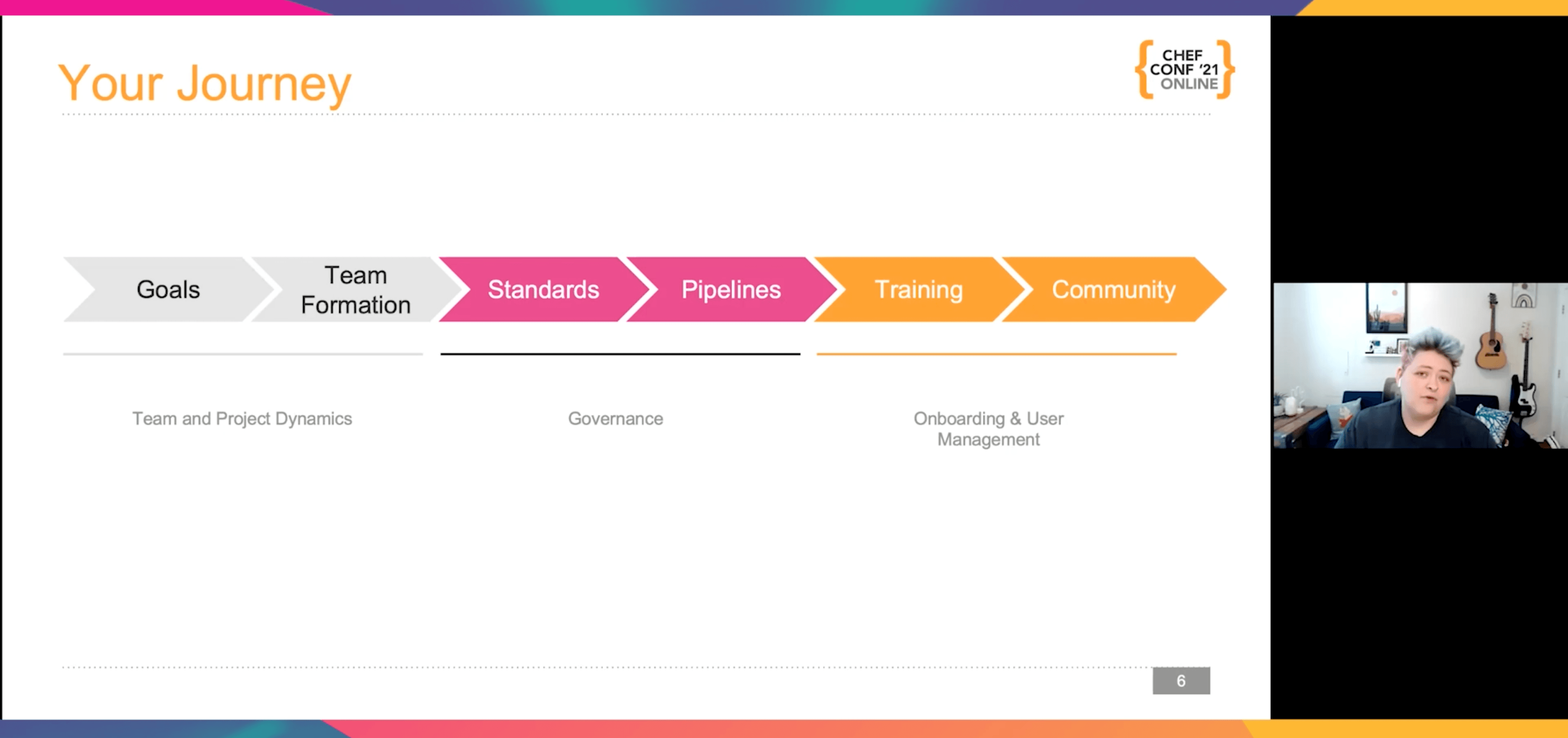 "Config management, as an extension, is something that's necessary if you have VMs in your organization, full stop," Woods said in her presentation. "You want your systems to always look the way they should and always be compliant; you want your images to always look the way they should and to always be compliant."
"Implementing Chef isn't just about writing cookbooks and applying them to servers," she added. "If you want to do this right, there are going to be some unwritten steps that you should take first. In many ways, I often think of config management and its organizational implications as a jumping-off point for DevOps enablement."
Woods continued, "Your organization may already be following DevOps principles in some capacity, but the level of automation and organizational cohesion you'll build while building out this platform is going to really throw that into overdrive."
In How SAP Scales Compliance for 10K+ Cloud Accounts and Growing with Chef InSpec with Tim Jones, security tooling product owner at SAP, and Joe McCrea, cloud security DevOps engineer at SAP, ChefConf participants heard how the organization has been able to scale its compliance efforts to a huge amount of cloud accounts.
"SAP is enormous – it's staggeringly massive, actually," Jones noted. "The cloud landscape across the globe is enormous. Across the globe, it's 100,000 employees. So, we've got a real scale issue, and anytime we try to use anything new, the first question anybody asks is can it handle scale? Because that's always the first thing that trips us up when we try to deploy something new."
Panelists from Netflix, Facebook, and CompuCom also stopped by to discuss how they use Chef to manage their fleet of laptops and desktops remotely.
"The need for desktop management has certainly been accelerated because of COVID," said Andy Deltuvia, VP of professional services at CompuCom. "Obviously, COVID has had a significant impact on the ability to manage a desktop and the need to manage a desktop. So, if they were ignoring it or if they did it haphazardly in the past, it was a compounding issue with the proliferation of people coming in and out."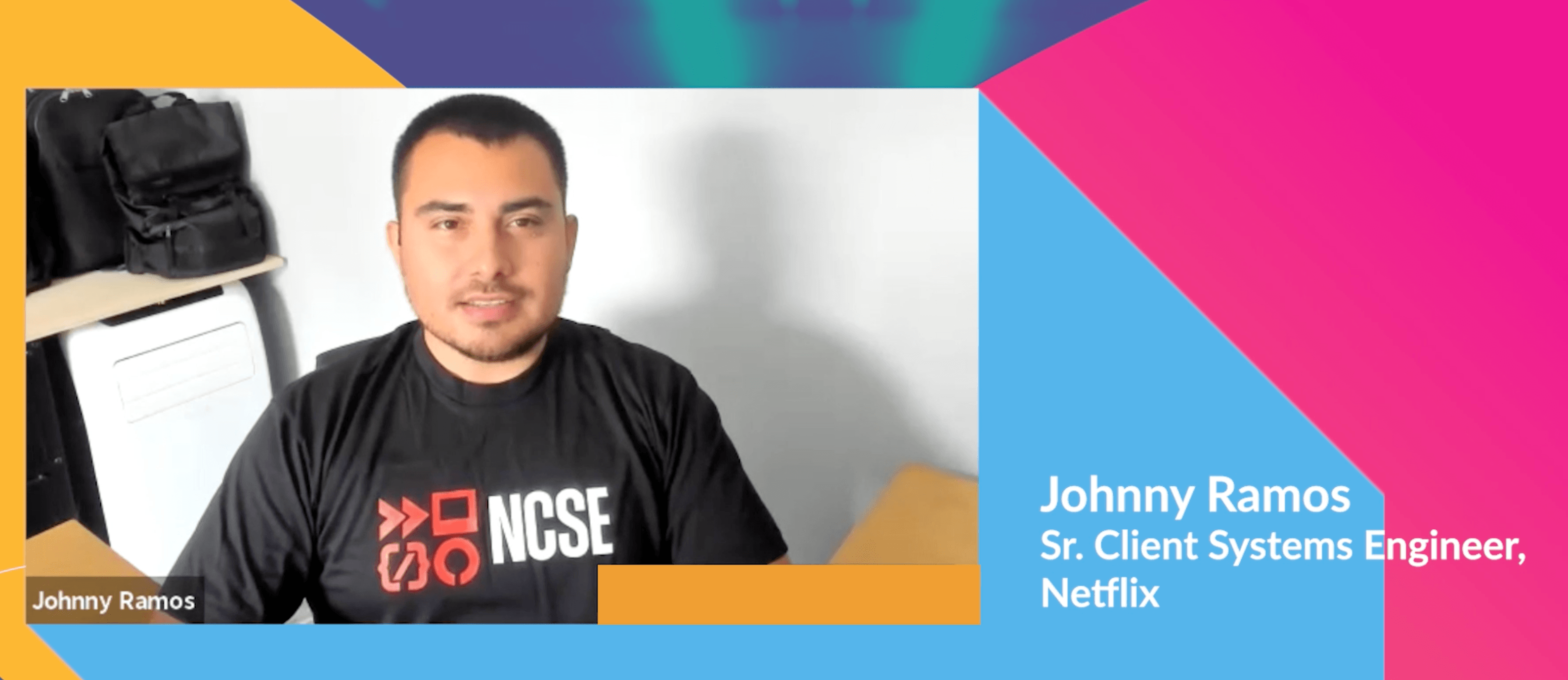 "If you look across the globe, we've already had instances of people being remote and then coming back to the office and then returning to remote," he continued. "Many companies I worked with couldn't get devices to their people logistically, so they were using what they had at home – completely unmanaged, completely unvetted, completely unsecure."
Mike Dodge, client platform engineer at Facebook, commented that doing the work ahead of time did make the transition easier – and so did Chef InSpec.
"To the point of everything moving off-network, yeah, that was going to be really problematic. But luckily, we were already working on this and were nearly ready as work-from-home started," Dodge said. But trying to establish trust and allowing someone to provision from anywhere added a lot more challenges and actually took a lot more work."
"We had to re-think about the security approach. How do we validate not just that this is our machine and it's in a good state, but also that the user is who they say they are?" he noted. "We've always considered our fleet to have a pretty high bar in terms of security, but recently we've been not just relying on Chef, but using InSpec as well to help us with our compliance requirements and give us a good sense of where our fleet stands at any given moment."
The day came to a close with amazing performances from two great bands. Deep Sea Diver and Lakou Mizik delivered sets with a blend of music and talking to tell a story about the transformation the world has experienced in the last year and a half, and how we can find common ground despite having drastically different points of view.
If you missed day one of ChefConf, no need to fret – the fun continues tomorrow on day two. Join us for another day of learning, sharing, and growing with some of the best minds in DevOps and IT!