The Event
Chef was a proud sponsor of DevOpsDays Portland on August 9th & 10th at the Oregon Convention Center. A sold-out, diverse crowd gathered for keynotes, presentations, lightning talks, and open spaces to learn, discuss, and promote all things DevOps.
The Presentations
DevOpsDays Portland was in full-swing by 9:15am when Kelsey Hightower took the stage to talk about No Ops and what it really means. The next two mornings saw presentations from influential and forward-thinking members of our community, including two of my own colleagues, Nell Shamrell-Harrington and Jennifer Davis. Topics ranged from DevOps history, managing burnout, how security teams can be more approachable, monitoring, and everything in-between.
The Food
Because it's Portland, lunch was provided by a variety of PDX's most beloved food trucks. Participants' palates were delighted by Hawaiian fusion (808 Grinds), latin american (Fuego), Korean fusion (Koi Fusion), and gluten-free world fusion (Thrive). The two I had the pleasure of eating at were delicious and fueled me up for the action-packed second half of the conference.
Ignite Sessions
Immediately following lunch were the lightning talk Ignite sessions. For those not familiar, Ignite talks are 5 minutes long consisting of 20 slides that advance every 15 seconds. I felt this format was a fun way to digest information quickly and left me thinking, "why didn't I submit an Ignite talk?!" My colleague JJ Asghar did a presentation on being an introvert. As an extrovert, I really enjoyed hearing how an introvert deals with conferences.
Open Spaces
After the Ignite sessions came my personal favorite, Open Spaces. As expected, a wide variety of topics were suggested and scheduled during Open Spaces. At DevOpsDays Portland, we had three time slots consisting of seven different sessions. I particularly enjoyed the database automation discussions and the AMA (ask me anything) sessions.
Chef Booth
Following Open Spaces, the days were concluded with one final main-room talk per day and closing remarks. I can't say much about these closing sessions because I was serving booth duty both days during this time.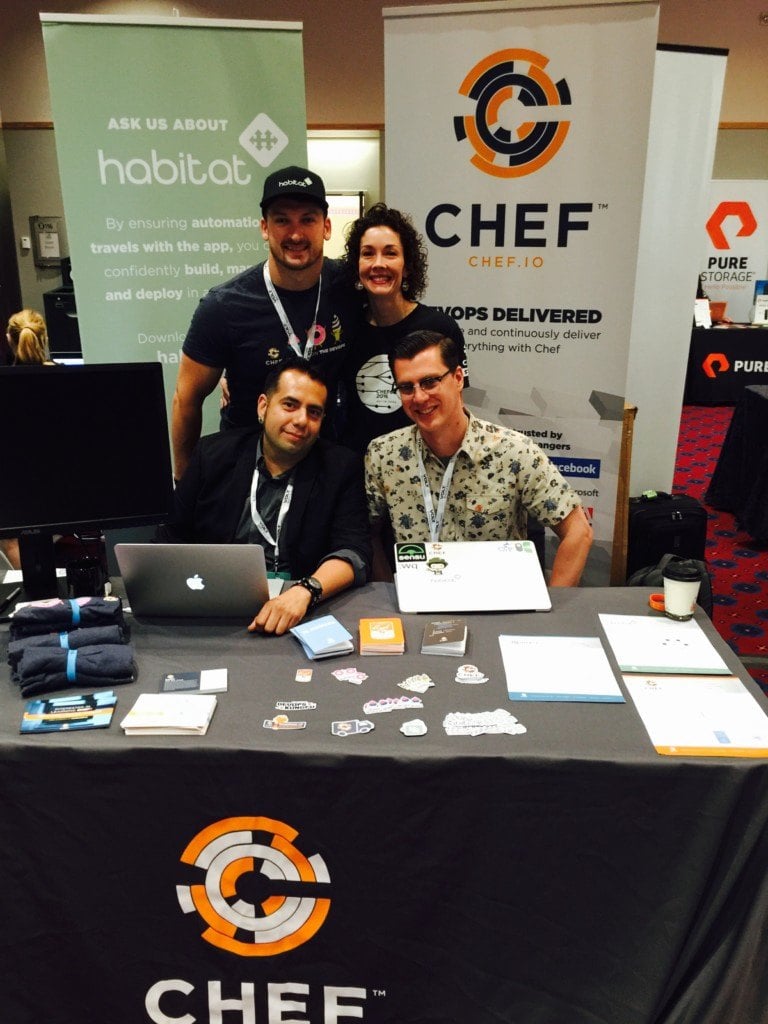 Evening Event
Tuesday evening, our friends at New Relic hosted a great party in their downtown Portland office, colloquially known as "Big Pink". High atop, Big Pink provided the perfect location for a community party. Breath-taking views coupled with drinks, snacks, games, and interesting, intelligent conversation provided the perfect setting for the celebration.
Wrap-up and What's Next
I really enjoyed DevOpsDays Portland and thought the format and the topics were well thought-out. I loved the Ignite talks and open spaces and could have done a whole extra day of just those. The event was very professionally run and I got the chance to have some awesome conversations with amazing people in the DevOps community.
If you're in the Portland area, I invite you to join me on August 23rd for the Docker PDX Meetup. I'll be speaking about Habitat and ways you can contribute to our open-source platform.
Outside of Portland? Check out our full calendar of events to find out when we'll be in your area.