Over the past couple weeks we published a series of blogs previewing the many adventures of a number of our stateside Chefs in Europe, who traveled across the Atlantic to help add to all our European Chef Team has been building in the past year and a half.
On the agenda was FOSDEM, CfgMgmtCamp, and a gamut of other rad events. Having so many Chefs in Europe gave us a chance to interact with a ton of interesting people, all with intriguing perspectives on, and experiences with, DevOps, Chef, and all things infrastructure.
Michael Ducy kicked things off at the London Cloud Summit with our friends at Red Hat, where he presented "The Road to Hybrid Cloud is Paved with Automation", which you can view here. This intimate event provided the speakers an opportunity to lead conversations – not pontificate – which inspired some very cool idea-sharing.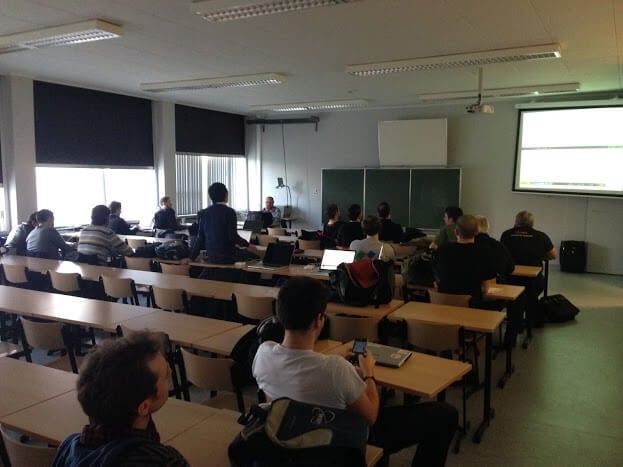 Next up we headed to Brussels for FOSDEM, which is skyrocketing in popularity. Large crowds packed the Config Management Room, where our own Sean O'Meara presented "Configuration Management 101", which you can check out here. Michael Ducy presented again, this time on "Deploying CloudStack with Chef" (slides here). Seeing so many people join us to talk config was inspiring, and a bit intimidating. Luckliy there were lots of great folks with real wisdom to contribute, making our job easy.
Our friend Marta Paciorkowska gives a good recap of FOSDEM here.
Staying in Belgium, we chased FOSDEM with CfgMgmtCamp in Ghent. Our Nathen Harvey ran a Chef Community room, while lots of Chefs spoke on the main track, including:
– George Miranda, "Much Continuous Delivery"
– Julian Dunn, "Cooking with Chef on Windows"
– Mandi Walls, "Disaster Recovery Strategies"
– Michael Goetz, "My Parents Configured Their Living Room"
And that's literally just the half of it.
While at CfgMgmt Camp we had lots of tome to hang out with peers, friends, and fellows over lunch, dinner, drinks, or just in the hallway. A special highlight was when Adam Jacob gave a Test Driven Development "training" in the Chef Community Room. The crowd loved it.

Following CfgMgmt Camp Nathen Harvey headed to London for #learnchef training and the Infracoders London Meetup, where he presented "TDD with Chef". Between the beers and wide-ranging conversation, the meetup was a splendid cap to some seriously productive training sessions.
Saying goodbye to our European team – and leaving all our new friends – was tough, but also got us pumped for all the dynamite stuff happening across the pond.
Chef Europe continues to grow and after hosting our US envoy, they're back to helping our European users solve their hardest IT problems. Not to mention continuing all the engaging conversations started at FOSDEM, CfgMgmt Camp, and otherwise.
Of course, we hope to see many of our European friends at #ChefConf in April, where there is bound to be much more goodness to enjoy.