Today at the Electric Cloud Summit, Opscode is very excited to be announcing a collaboration with Electric Cloud around enterprise DevOps. In Electric Cloud, we not only see a company with an impressive user community and complementary technology, but an enthusiastic commitment to software delivery that rivals our own.
For end users, the result of all that mutual admiration is a pretty clean melding of Electric Cloud's expertise in automating application-level processes (build-test-release-deploy) with Chef's traditional bailliwick of infrastructure automation.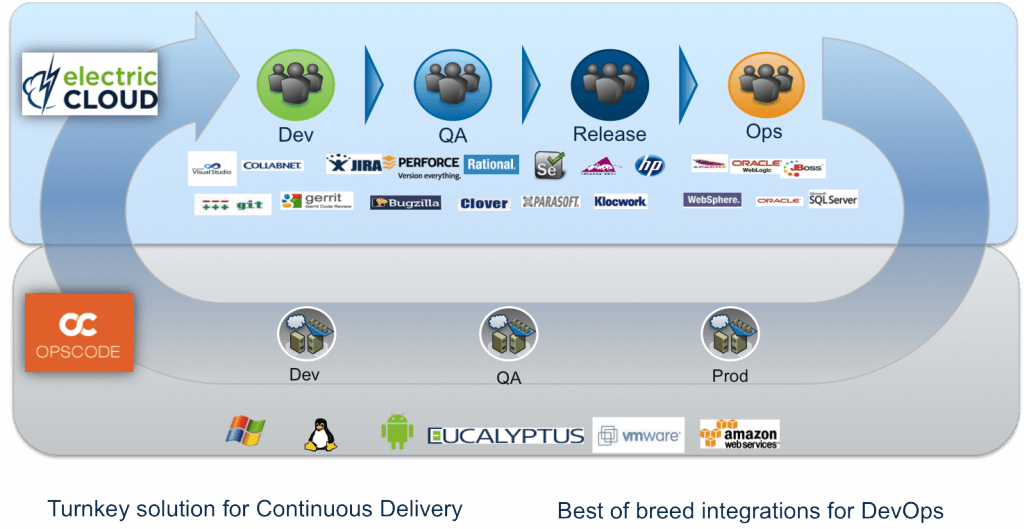 The "offering" itself is a Chef plug-in for the Electric Cloud DevOps platform which enables Electric Cloud customers to define, build and manage infrastructure using Opscode Chef. This Chef-managed infrastructure can then be automatically and contextually used for application deployments and release process tasks, across the dev, test and production stages and environments.
The early feedback we are receiving from customers is very encouraging. The integration of release process with application deployment and environment configuration means customers can deliver high quality software faster to the marketplace. Who wouldn't want that?
If you are interested in learning more, the plugin itself is available as a free download. Additionally, the only thing Electric Cloud and Opscode love more than fully automated software delivery, is real-time feedback from customers. To talk to us about the integrations or to schedule a joint demo, contact us at bizdev@opscode.com.