What's in a name? Turns out, a lot.
Today we announced that Private Chef and Hosted Chef are now renamed to Enterprise Chef™ offered both as on-premise software and as a hosted service.
So what?
In the past year, our Fortune 1000 customer base has grown 150% and to date, Fortune 1000 businesses represent the majority of Opscode's total sales. In other words, enterprises are purchasing large amounts of Chef, so renaming our commercial products to more clearly and simply align with the companies buying them makes good business sense.
Of course, if you're a small or medium sized business, Enterprise Chef is still very much for you. It can be consumed in exactly the same ways – on-premise or hosted – for exactly the same price – $6/node via subscription or term pricing. What's more, it now features a range of additional functionality that will provide your organization the speed it requires to best meet customer demand and expectations.
Before we get into what's new with Enterprise Chef, let's take a moment to examine WHY the enterprise is buying Chef. If you haven't seen our founder Adam Jacob's keynote from this year's ChefConf, I recommend starting there, as he provides a dynamic thesis detailing the "new normal" in the enterprise, based on our work with major enterprises, including like Nordstrom, General Electric, Adobe, Fidelity, Ancestry.com that spoke at either ChefConf 2012 or 2013. In short, speed in the service of customer need is the name of the game. To paraphrase Adam, the consumption of goods and services has been re-defined by the Internet and the devices that touch it. Now, businesses must move faster than ever to meet customer expectations, with technology serving as the key touch point in those interactions. So, the role of IT is changing – from back office support function to front office catalyst – and this is where Opscode comes in. Automation is critical in moving IT to the front office and enterprises are coming to Opscode and Chef for help in making this transition.
Net-net, near-on-demand delivery of goods and services is the "new normal" in the enterprise and enabling that speed is what Opscode and Enterprise Chef are all about.
How?
Just take a look at what we announced today. Opscode is adding new capabilities spanning compute (even stronger, native Windows support for broad range of ops), networking (integration work with Arista, Cisco, Juniper, Cumulus, and Plexxi), and even storage (beginning w/a Chef Cookbook for automating Nexenta storage instances). By delivering a broad range of automation capabilities that extend the Enterprise Chef platform beyond just compute through the entire stack, we're delivering an automation platform with the muscle and flexibility enterprise organizations need.
For all the nitty gritty, you can check out the press release below. We're hyped to join with so many cool tech providers in extending Chef's capabilities. And we're really amped to keep working with enterprises (and businesses of all sizes) to whip up some awesome w/Chef.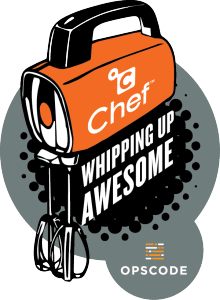 Opscode On the Rise in the Enterprise
Announces Enterprise Chef and Joins with Arista Networks, Cisco Systems, Cumulus Networks, Juniper Networks, and Plexxi to Bring the Full Benefits of IT Automation to Networking; Deepens Support for Microsoft Windows and IBM SmartCloud
Company Reports More Than 150 Percent Year Over Year Growth in Fortune 1000 Customer Base

SEATTLE – August 19, 2013 – Opscode®, the foundation for the coded business, today announced Enterprise Chef™, which automates the provisioning and management of compute, networking, and storage resources in the data center, private and public cloud – all from a single platform. Featuring new automation capabilities for Windows (see separate release), as well as integration with leading providers in networking and storage, Opscode Enterprise Chef empowers IT operations and development teams with an enterprise-grade platform for automating configuration management, cloud management, and the continuous delivery of applications and dependent infrastructure. Enterprise Chef was previously offered as two separate products – Private Chef and Hosted Chef – which have now been realigned under a single brand, available as on-premise software or as a hosted service.
"Enterprise organizations are in the midst of a major business transformation, driven by the radically new way in which customers are purchasing and consuming goods and services today. As a result, technology is serving as the key touch point to users and the role of IT has shifted from the back office to the front office," said Adam Jacob, Co-Founder and Chief Customer Officer, Opscode. "Today we're delivering an automation platform that accelerates this transformation by delivering on-demand IT services to achieve the speed necessary for meeting the new expectations of customers."
Fortune 1000 Customer Growth
Opscode also today announced that Fortune 1000 companies represent 60 percent of Opscode's total sales and that the company's Fortune 1000 customer base has grown by more than 150 percent year over year since June 30, 2012. To capitalize on enterprise demand and better meet the needs of large-scale organizations, Opscode is collaborating with leading providers in compute, networking, and storage to deliver full stack automation for data center, private and public cloud infrastructure.
Automation in Networking
Opscode is collaborating with leading networking vendors, including Arista Networks (see separate release), Cisco Systems, Cumulus Networks, Juniper Networks, and Plexxi to integrate Enterprise Chef into next-generation networking technologies. By enabling IT teams to manage compute and networking resources from a single automation platform, Enterprise Chef speeds up bandwidth provisioning to accelerate IT operations and improves system availability.
Arista Networks – Opscode has integrated Enterprise Chef with Arista Extensible Operating System (EOS), automating the configuration of physical and virtual networking ports using code. By coordinating change management between compute and networking infrastructure, Opscode and Arista help enterprise IT teams ensure alignment between these core datacenter resources.
Cisco Systems – Cisco and Opscode are collaborating to integrate Enterprise Chef and Cisco's One Platform Kit (onePK), enabling Cisco customers to automate networking port configuration using Chef Cookbooks. Cisco is also integrating Chef into its Software Maintenance Upgrades (SMU) Manager, which will enable the SMU Manager to communicate with Chef via an API and provide users the ability to automate package updates to networking resources at any scale.
Cumulus Networks – Cumulus and Opscode are collaborating to integrate Enterprise Chef and Cumulus Linux, the first, full-featured Linux operating system for datacenter networking. By presenting a standard Linux interface, Cumulus Linux allows Opscode Chef to manage switches in the same manner Chef already manages standard Linux servers, delivering the full benefits of automation for configuring networking resources.
Juniper Networks – Juniper Networks is working with Opscode to integrate Enterprise Chef capabilities into Junos® OS, enabling IT organizations to coordinate change management more simply and seamlessly between compute and networking resources. By combining Enterprise Chef and Junos OS, customers will be able to perform common network configurations directly rather than through a series of manual processes, thereby saving time and mitigating risk of human error.
Plexxi – Plexxi is working with Opscode to integrate Enterprise Chef and Affinity networking, which offers an open model for describing application workload requirements. Combining Enterprise Chef and Affinity will give users a seamless, flexible solution for automating network behavior and capacity guarantees alongside the compute infrastructure. Plexxi will be giving an initial demonstration of Chef and Affinity at VMworld, Aug. 25-29, in San Francisco, CA, in booth #636.
Automation for Windows and IBM SmartCloud
Opscode today announced a collaboration with Microsoft Corp. (see separate release) to enable both the Opscode Chef open source automation platform and Opscode Enterprise Chef to take advantage of the new Windows PowerShell Desired State Configuration feature of the Windows Management Framework (WMF). This new collaboration builds on continued efforts between Opscode, Microsoft, and Microsoft Open Technologies to enhance Opscode Chef and Enterprise Chef's comprehensive Windows configuration automation capabilities and help customers avoid configuration drift in enterprise IT environments. Opscode Chef and Enterprise Chef currently provides native, open source Windows functionality for a number of critical operations, including server provisioning and configuration management, and is adding new options to help users easily automate Windows resources in the data center and public and private cloud.
On Tuesday, August 27, 2013, at 10 am PT, Opscode will host a live demo of Opscode Chef's automation capabilities for Windows, including Windows stack automation of a .NET application and details on the entire range of Chef resources currently available for Windows environments. To register for this webinar, please go here.
Continuing Opscode's collaboration with IBM to provide open source cloud automation for the enterprise, IBM recently delivered the SmartCloud Orchestrator Content Pack for both Opscode Chef and Enterprise Chef, enabling SmartCloud users to automate core infrastructure operations by deploying Chef Cookbooks through the IBM Business Process Manager.
Automation in Storage
Opscode has joined with Netherlands-based IT outsourcing leader Schuberg Philis and software-defined storage leader Nexenta (see separate release) to deliver a Chef Cookbook for automating NexentaStor ZFS-based storage resources. Using Enterprise Chef, Schuberg Philis can manage storage configurations and compute resources in its CloudStack-based hybrid cloud via a single automation platform, accelerating resource and application provisioning, improving system visibility and resiliency, streamlining management and monitoring, and reducing risk for its customers' applications. In addition, Enterprise Chef's multi-tenancy gives Schuberg Philis the flexibility to manage compute, storage and network resources from its hybrid cloud to specific customers, providing dedicated configuration management and infrastructure for customers' mission critical application infrastructures.
Pricing and Availability
Opscode Enterprise Chef is available today at www.opscode.com, as either a hosted service or on-premise software. Anyone can download and use Enterprise Chef to manage up to 5 nodes, free of charge. Pricing starts at $6 per node for both the hosted and on-premise versions. Documentation for installing and using Enterprise Chef can be found here.
Getting Started with Chef