Now manage all your Chef applications in the cloud with Chef SaaS Early Access. Start with Automate On-Demand for infrastructure management, compliance scanning, role-based access control, better visualisations and more – all the Chef functionality you rely on, with less overhead.
Sign up for the Chef SaaS Early Access in a few simple steps and get started with centralized and automated management of infrastructure, application delivery, and compliance. An easy deployment and upgrade process gets you to work quickly.
Policy as Code with Chef SaaS
Increase the speed of software delivery while making processes faster, secure and more efficient. The Automate On-Demand feature in Chef SaaS makes Chef's Policy as Code approach easily manageable with a single console for all codified policies for Infrastructure, Compliance and App Delivery.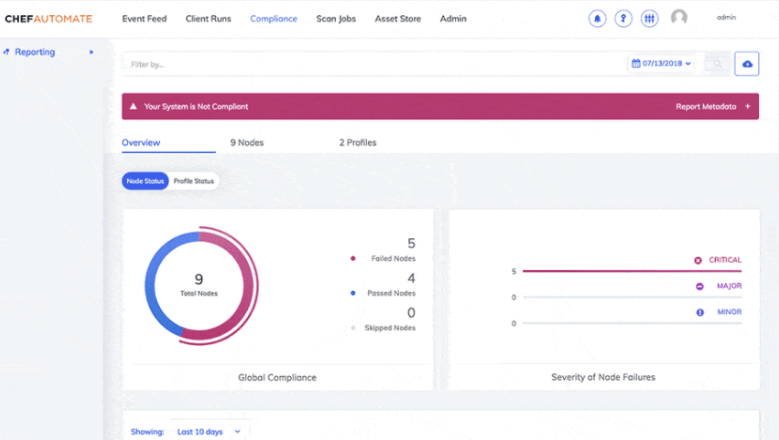 Infrastructure Management
Automate management of configurations on all endpoints with speed and consistency
Compliance Management
Automate scanning and remediation of security and compliance vulnerabilities
Application Delivery Management
Define, package and deploy applications on any platform quickly and with confidence
More Control. Less Hassle.
Chef SaaS Early Access offers unmatched automation to control all essential resources in the IT fleet for infrastructure configuration and compliance management.
Automate infrastructure configurations to ensure every system in the network is configured correctly and securely
Run continuous scans on all IT resources including servers, VMs, and cloud services from one console
Validate security updates and software patches with built-in industry standard CIS benchmarks and DISA STIGs
View status of endpoints across the board at all times—every data center, cloud provider, and hosted environment
Encourage cross team collaboration among Dev, Ops, Security and Compliance teams with a consistent dashboard view
Still not convinced? Sign up to see how Chef SaaS Early Access can ease the management of infrastructure and compliance controls for your entire IT ecosystem. Experience its single centralized console with insights into configuration and compliance status, and a visibility dashboard to manage every node with rule-based automation.
Registration for the Chef SaaS Early Access program will be closed as soon as available slots are filled. Don't miss your chance—enroll now!
If you'd like to know more, schedule a call with our experts through this link or just drop us an email.