Analyst Report
The 2023 DevOps Trend Report

The DevOps movement has revolutionized the way we approach software development, enabling more efficient and streamlined application delivery and release orchestration through CI/CD. By embracing these nuanced methodologies, organizations have not only accelerated the scale and speed at which they release software but have also fundamentally shifted responsibilities onto developers, driving innovation and automation throughout the entire software development life cycle.
Dzone's 2023 DevOps Trend Report covers everything you need to know about the latest trends, practices, and innovations in DevOps. We've gathered insights from experts in the field, analyzed data and trends, and compiled it all into one comprehensive report.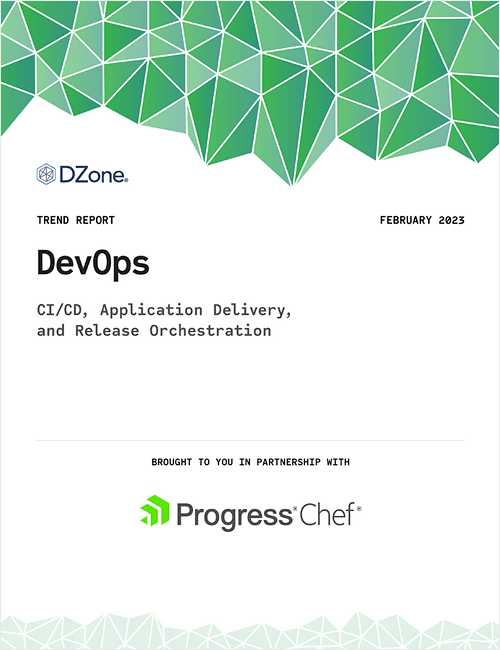 With this report, you'll discover:
The current state of DevOps and how it's evolving
The top challenges faced by DevOps teams
The latest tools and technologies used in DevOps
Best practices for implementing DevOps in your organization
The role of DevOps in digital transformation
The future of DevOps and where it's headed
Interested to learn more about Chef? Get a demo
Progress Chef is a proud co-sponsor of DZone's 2023 DevOps: CI/CD, Application Delivery, and Release Orchestration Trend Report which explores the derivatives of DevOps.