Author:
Anthony Rees
Anthony is a member of the Chef Solutions Architecture Team helping organisations with the journey to continuous automation and is based in Melbourne, Australia with a strong background in agile application development. He has always been an active open source community member and advocate, including OpenStack since the Grizzly days, CloudFoundry from pre-v1.0 and Docker for a few years now. Anthony has a keen interest and vast experience in Continuous Delivery working with many teams around the world to implement Test Driven Development techniques, Feature Toggling best practices, late binding Platform-as-a-Service designs, Build Automation and leveraging DevOPS methodologies on both OpenStack and Public Cloud environments. He is a regular speaker at development conferences and hackathons around the world. You can follow him on Twitter @anthonyrees or watch his previous presentations on YouTube.
---
Cyber Security for Australian Government, National Critical Infrastructure providers and Enterprise using Chef Compliance
On Friday, June 19th 2020, the Australian Prime Minister Scott Morrison called a snap press conference to reveal that the nation was under cyber-attack by a state-based actor.
Read more
---
Automating MAS Technology Risk Management (TRM) Guidelines using Chef InSpec
I'm very privileged to work with a range of FSI organizations across Asia Pacific (APAC) as a Regional Solutions Architect at Chef. Customers in every vertical need help and assistance with continuously auditing their environments inline with industry standards, as well as those set by governments, and independent regulators.
Read more
---
Why do Enterprise Organizations Need Communities of Practice?
Many large enterprises and mid-sized organizations are looking to build and strengthen their internal culture to improve knowledge sharing, increase working morale and improve staff retention. Only a few years ago these same companies would have turned to Centres of Excellence (CoE) but instead they are looking to leverage Communities of Practice (CoP).
Read more
---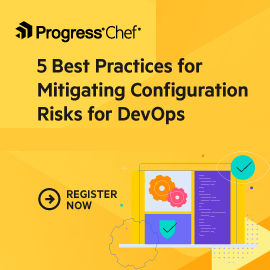 FOLLOW @CHEF