Author:
Blerim Sheqa
Blerim Sheqa works at NETWAYS, a company dedicated to open source software. He used to work as a Systems Engineer and help customers with their monitoring, logging and configuration management. As a Product Manager for Icinga he helps to develop the product strategy, conception and product management in general.
---
Continuous Monitoring
The word continuous describes a process that never ends, marked by uninterrupted extension in space, time or sequence. In the world of DevOps many things are continuous: Continuous Integration, Continuous Server Deployment, Continuous Application Deployment, Continuous Everything.
Read more
---
Icinga 2 Cookbooks: Breaking up the All-In-One Cookbook
For vendors, configuration management has become as important as the software itself. As a vendor you should take responsibility and provide proper cookbooks for your software that fulfill the requirements for as many users as possible.
Read more
---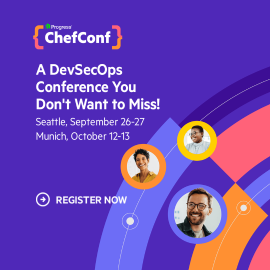 FOLLOW @CHEF