Author:
Brian Loomis
Brian is Chef's Director of Architecture and leads a small team defining the future of DevSecOps through creating Progress' Chef platform. He has over 20 years of management and technology consulting with Microsoft – part of both the .NET and Azure launches – and leading his own agile practice defining platforms and digital products with select customers. Brian has led innovative thinking and launched over a dozen digital cloud products for organizations in the Fortune 50 through startups in manufacturing, healthcare, education, and high-tech. He has degrees from Princeton and Cal State, serves as an advisor to several software architecture professional groups, and was formerly an officer in the U. S. Air Force.
---
Change to Chef Automate Version and Release Numbering
The version number on releases of Chef Automate is changing from a daily build number to SemVer (major-minor) numbering to indicate recommended upgrade points for customers.
Read more
---
Advanced Remediation Guidance for Elastic Search in Chef Automate 2.0 and Backend
Guidance for users who completed the Chef Backend 2.2.0 migration and are still being alerted by scanning tools that Elastic Search may have a vulnerability.
Read more
---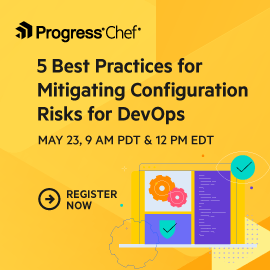 FOLLOW @CHEF