Author:
Jonathan Pereira
Jonathan was the Developer Engagement Manager at Progress Chef. He is passionate about helping supercharge developers using cutting-edge developer tools and turning them into superheroes. He is an open-source enthusiast and loves engaging with developer communities to discuss everything tech.
---
Chef Infra Best Practices: #5 Using Chef Infra Policyfiles
The fifth installment of the Shape-Up Your Infrastructure Webinar Series – Building Immutable Infrastructure with Policyfiles. What is a Chef Infra Policyfile A Chef Infra Policyfile is the simplest method to manage role, environment, and community cookbook data with a single document uploaded to the Chef Infra Server.
Read more
---
Bash 101: Scripting Basics course now live on Learn Chef
In this day and age of automation, automating repetitive and mundane tasks is highly valued to developer productivity and efficiency. Tasks like user management and creating backups, though simple, can eat away a lot of time and effort to execute.
Read more
---
Launching Ruby Courses on Learn Chef
The Ruby programming language has been around for more than two decades. It constantly features on the TIOBE Index, Stack Overflow Developer Survey, and GitHub State of the Octoverse as a popular programming language. While the last decade has seen hundreds of new programming languages emerge (and wither, for some), Ruby remains popular and relevant.
Read more
---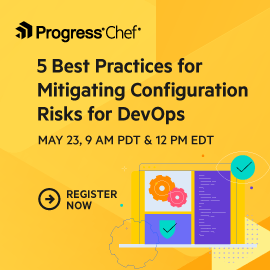 FOLLOW @CHEF