Author:
John Snow
John Snow is a Customer Engineer with Chef's Advanced Customer Engineering Team. He works to help customers get the most out of their Chef implementation through community contributions, and co-operative development. Prior to Chef he worked as a Microsoft focused Systems Engineer for the Department of Defense.
---
Running Chef and InSpec with Habitat – How We Made that Demo
Editor's Note: ChefConf 2018 'How We Did It' Series Welcome to part two of our How We Did It series based on demos from the ChefConf 2018 Product Vision & Announcements keynote presentation. In case you missed it, review part one: Habitat and Kubernetes.
Read more
---
Microsoft SQL Server cookbook release – 5.4.0
Hello and Happy New Year Chef's! It is 2018 and what better way to start the new year off than with an exciting cookbook release. I'm happy to announce that we have just released version 5.4.0 of the sql_server cookbook. Now, I know you're thinking that this is not a major release.
Read more
---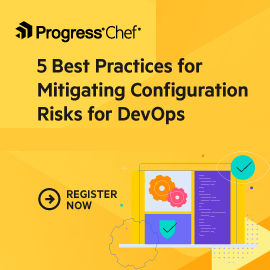 FOLLOW @CHEF