Author:
Mark Mzyk
Mark is an engineering manager at Chef, having accepted the position after having been a long time software engineer at Chef. In his time at Chef he's contributed code to almost every single Chef product. Now code dominates his life less, but he gets the joy of helping others create code that has a positive impact.
---
Open Source Chef Server 11.1.0
Hello Chefs, We're happy to announce the release of the Open Source Chef Server 11.1.0. The MVP for this release goes to Jesse Nelson and Philip Hutchins for their help in tracking down and helping others work around CHEF-3921. Many thanks to both of you. Obtaining the Release The release can be downloaded from http://www.getchef.
Read more
---
Release Candidate for Open Source Chef Server 11.1.0
Hello Chefs, We've got a release candidate ready for the open source Chef server 11.1.0, 11.1.0-rc.2 It's a .2 because an earlier release candidate was lacking a Rails CVE update for the WebUI. The release candidate contains several new features, such as full IPv6 support and a new chef-server-ctl upgrade command.
Read more
---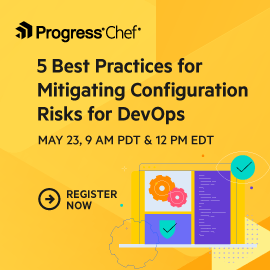 FOLLOW @CHEF