Author:
Nell Shamrell-Harrington
---
Public Supermarket: The Insider's Tour
I recently gave a webinar on Chef Supermarket. If you missed it, you can watch the recording here: Users learned how to make full use of Chef Supermarket and best practices for both using cookbooks from Chef Supermarket and uploading cookbooks to Chef Supermarket. What is Supermarket?
Read more
---
Using Chef Supermarket: A Guided Tour
Supermarket is the Chef community's central clearing house for sharing cookbooks, tools, and plugins. It is a place for Chef community members to download community cookbooks, collaborate on cookbooks, and upload cookbooks to be used by other community members. It is also the place to share information about tools that improve Chef's ecosystem.
Read more
---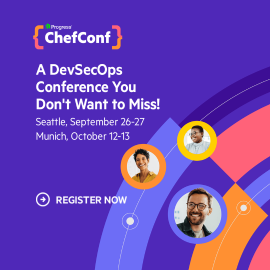 FOLLOW @CHEF