Author:
Todd Durning
Todd Durning works at Shadow-Soft, a Chef and Icinga partner that provides clients across North America with consulting, support, and training. An avid outdoorsman, Todd can often be found in a kayak or deep in the woods. When not outdoors, he enjoys solving games and puzzles. Incorporating these skillsets into his career, he solves complex problems to save his clients time and money through automation.
---
A Look at Deploying an Icinga2 Server with Chef Cookbooks
The thought of deploying Icinga with Chef is an exciting prospect. You get all the benefits of the flexible monitoring Icinga provides with all the reliability and scalability of Chef's configuration management. So, when I heard that Icinga had ditched their old monolithic cookbook design, I knew I needed to have a look. What's new?
Read more
---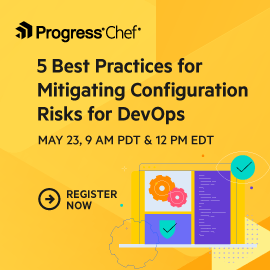 FOLLOW @CHEF