We're excited to announce we've joined with our friends at Amazon Web Services (AWS) in the reopening of the AWS Pop-Up Loft, which had a very successful run earlier this year. Chef is joining AWS to bring DevOps and IT automation expertise to the re-launched Pop-Up Loft, opening this October 1, in San Francisco. The Loft offers us a unique opportunity to connect with and support any and everyone looking to make the most of Chef and AWS.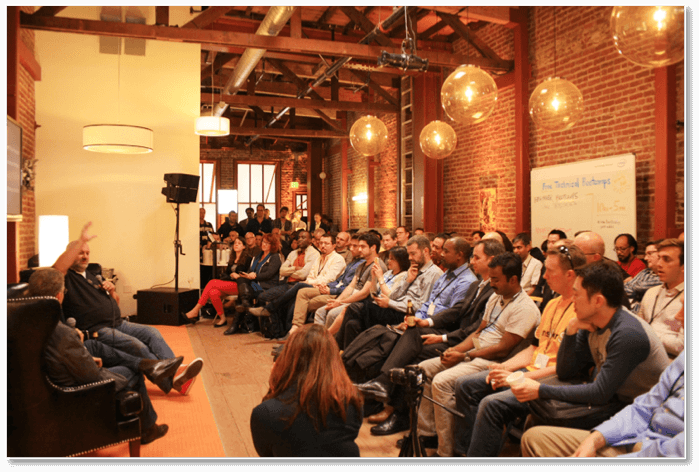 Earlier this summer, as part of The Loft's initial run, our own George Miranda presented on automating the cloud to a standing-room only crowd. Plus, we had the pleasure of many delightful chats and discussions.
This experience further validated what we have been hearing in the market – Chef and AWS are a natural fit. By working together we can help developers and IT pros – whether they're in the enterprise or at a startup – use automation and the cloud to achieve web speed and scale.
So what's in it for you?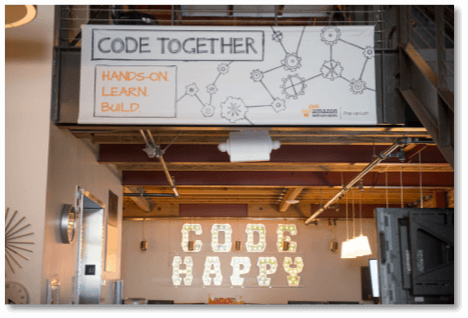 Please join us! Stop by and use free AWS credits on-site at The Loft to get hands-on experience with AWS and Chef. Bring us your hardest challenges, most burning questions, or just pop in for a chat, and our Chef experts on-site will be ready. Not to mention we'll have plenty of T-Shirts, stickers, and other sweet giveaways.
What's more, we'll also be offering live sessions on using Chef with AWS, as well as Chef training classes targeted specifically for AWS environments. So no matter if you're new to Chef and/or AWS, or an experienced user, we can help you take the next step in your DevOps journey.
More info:
Read more about the AWS Pop-Up Loft here.
Read Chef's press release about The Loft below.
Visit Chef's AWS resource page to hear how Scholastic moved to AWS using Chef.
Come visit the Chef and AWS at The Loft in-person at 925 Market St in San Francisco starting Oct 1!
Chef Joins With Amazon Web Services To Bring DevOps and IT Automation To AWS Pop-Up Loft
Teams with AWS to Empower Startups, Developers, and IT Professionals to Thrive in the Era of the Cloud
SEATTLE – September 18, 2014 – Chef, the leader in web-scale IT automation, today announced it is collaborating with Amazon Web Services (AWS) on the AWS Pop-Up Loft, opening in San Francisco on Oct. 1, 2014. After a successful inaugural run, the AWS Loft returns to provide in-person time with technical experts, free training courses and self-paced labs, peer-driven presentations, and a range of networking and co-working opportunities.
As organizations embrace web-scale IT, they are required to operate differently and increasingly turn to the cloud to support their modern architecture. Chef's tight integration with AWS provides easy migration of on-premises workloads to the cloud and creates a fast and scalable way to manage an AWS cloud environment and help to ensure infrastructure is fast and agile.
To expand upon this integration, Chef is bringing its DevOps expertise to the AWS Loft through live sessions and focused Chef training curriculum for AWS. Developers and IT professionals from enterprises and startups alike can visit the AWS Loft, leverage free AWS resources and get hands-on experience with both AWS and Chef. AWS Loft visitors can learn from Chef experts about how best to leverage DevOps practices and IT automation in the new era of the cloud.
"During the month that the AWS Pop-up Loft was open in June, thousands of people visited the AWS Loft and were able to get hands-on training and one-on-one advice on using AWS," said Ariel Kelman, Vice President, Worldwide Marketing, Amazon Web Services, Inc. "Customers told us how valuable the AWS Loft was for them and we're really excited to bring it back. We're also excited to continue to work closely with Chef to bring even more opportunities to our customers at the AWS Loft with sessions and content focused on DevOps and IT automation."
"AWS broke new ground with the first AWS Pop-Up Loft. Chef participated in the inaugural run and spoke to a standing-room only crowd of practitioners, underscoring the insatiable demand for new IT skills in the era of the cloud," said Jay Wampold, Vice President of Marketing, Chef. "Chef and AWS are helping redefine how the next generation of businesses operate and we are thrilled to help empower developers and IT professionals to thrive in this new world."
The AWS Loft opens on Oct. 1, 2014, at 925 Market Street in San Francisco, and will be open Monday through Friday. Visitors can go online starting today to make a one-on-one appointment, register for boot camps and technical sessions, and see what's happening at the AWS Loft. To learn more about the AWS Pop-Up Loft, visit http://aws.amazon.com/start-ups/loft/.
Additional Resources: