We've made several big announcements this morning… slightly ahead of schedule. You can read details on TechCrunch, GeekWire, DataCenterKnowledge, GigaOM, and more on Techmeme.
We just raised $19,500,000!
We've just closed $19.5M in Series C Funding, led by John Connors at Ignition Partners, along with Battery Ventures and Draper Fisher Jurvetson.
We spent over a year getting to know John and the team at Ignition, and he has known and worked with Mitch for over a decade. Ignition brings unique experience & passion for building great infrastructure companies that support amazing developer communities. We're excited to have John on our board and Ignition on our team.
Speaking of joining teams…
We Are Hiring!
Opscode is an awesome place to work on exciting things with exceptional people. We are based in Seattle, WA and have employees in almost every time zone of the lower 48. We've worked hard to create a remote-friendly culture and to have a big impact no matter where you live.
Current openings:
Senior Software Design Engineer
Senior Software Design Engineer – Windows
Software Design Engineer
Solutions Engineer
Learn more about working for Opscode on our careers page.
We are growing!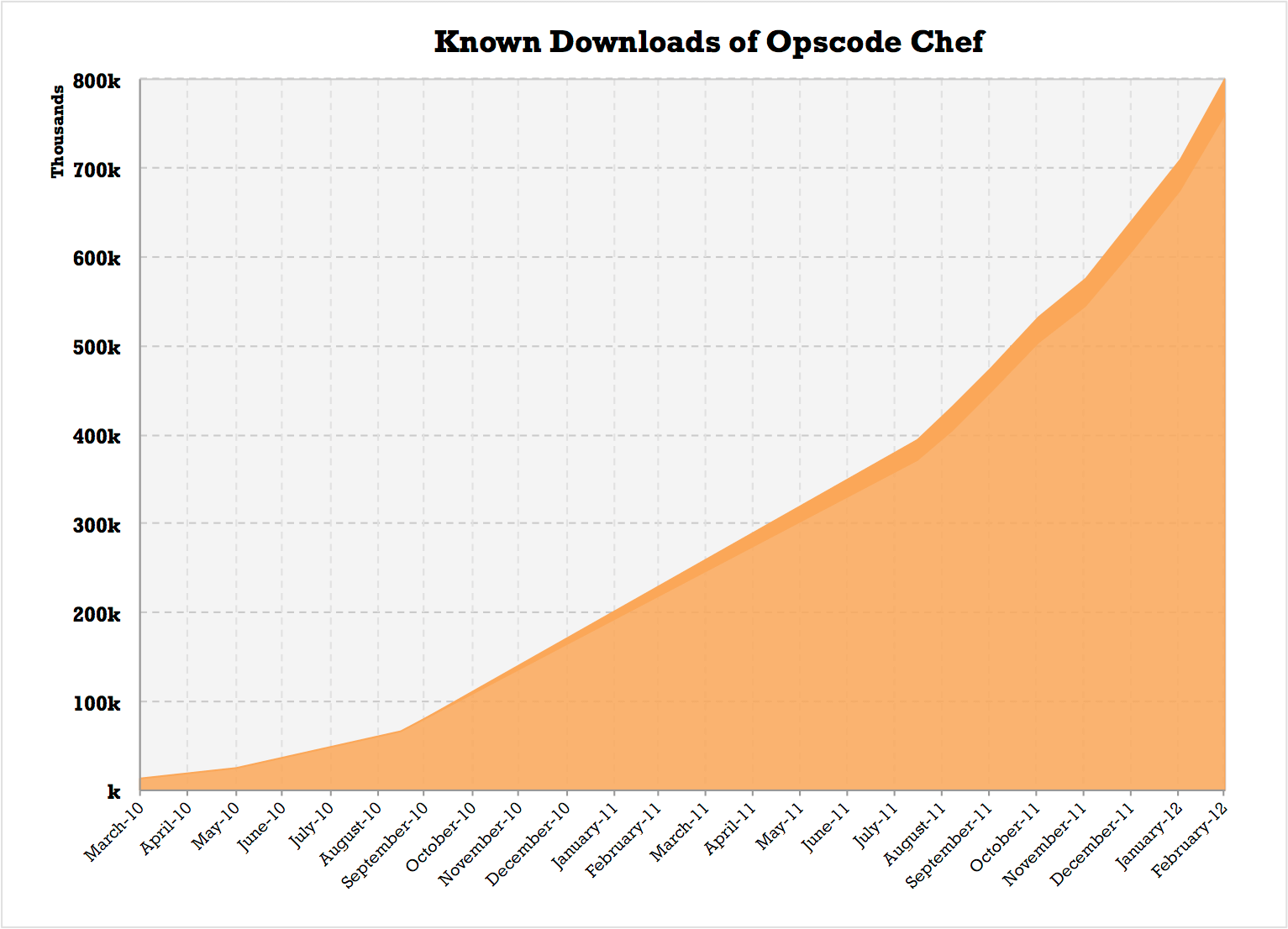 Chef has been downloaded over 800,000 since 2010!
Over 400 community cookbooks for everything from Apache to Zabbix.
Over 600 individuals developers and 100 organizations are contributors to Open Source Chef
We are going to #ChefConf!
Join us at #ChefConf 2012, our inaugural user conference running May 15-17 in San Francisco.
Speakers include:
Michael Aeschliman, Fidelity
Artur Bergman, Fastly
Jason Cook, Fastly
John Esser, Ancestry.com
Jim Hopp, Lookout Mobile Security
Alex Howells, HP Cloud Services
Thom May, Digital Science
Ben Rockwood, Joyent
Jason Stowe, Cycle Computing
Brett Weaver, Intuit
Registration is $900 at Early Bird pricing. Additional workshops on Tuesday, May 15, are $400. Rooms are available at the San Francisco Airport Marriott Waterfront for a discounted rate.
(Did you read this far? Use code "BIGDAY" to get a special 10% discount!)