In just a few weeks, Progress Chef will be taking over Seattle and Munich for ChefConf '23. Throughout the days of September 26 to 27 (Seattle) and October 12 to 13 (Munich), attendees will be treated to various sessions led by DevOps leaders in their respective organizations and members of Chef's growing team.
"The amount of knowledge Chef can cram into just a few days is something to behold," says Brittany Woods of the Lego Group and a speaker at both the 2021 and 2022 ChefConf events. Brittany is also speaking at this year's event in Munich.


We wanted to give our attendees (or those who might be on the fence on attending) a short preview of what kinds of discussions and topics they can see at both our Seattle and Munich events.
Who will be speaking at ChefConf '23?
Seattle
DevOps Strategy and Leadership Track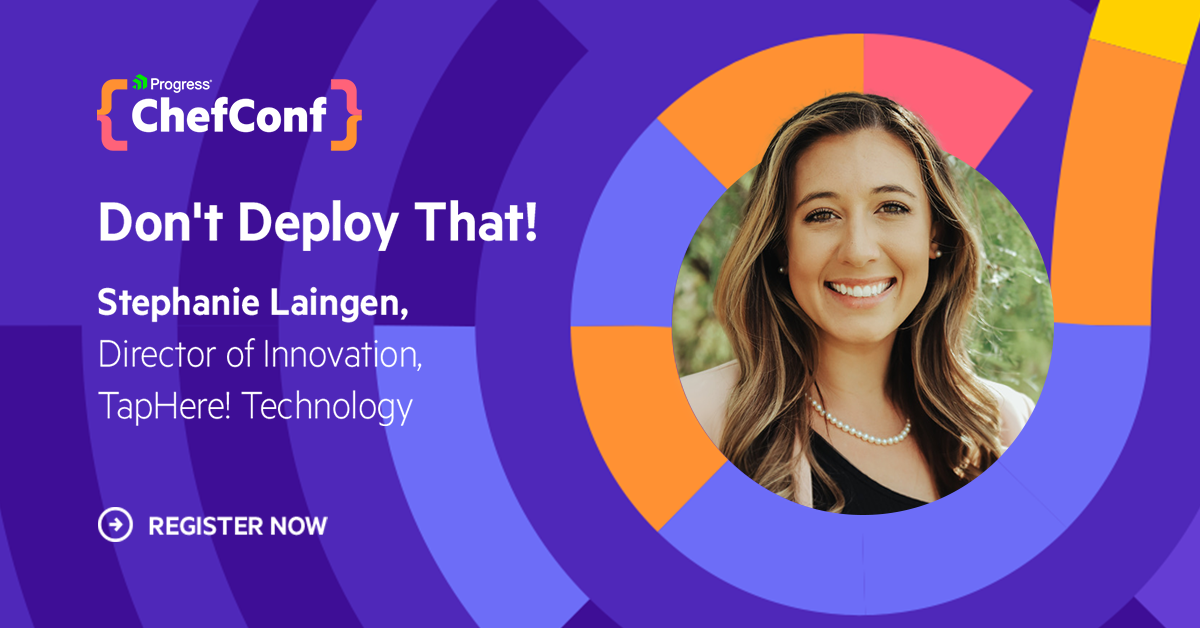 Don't Deploy That - Stephanie Laingen, Director of Innovation, TapHere! Technology
Join Stephanie Laingen, Director of Innovation at TapHere! Technology, for this detailed session, learn the right way to run policyfiles on your system and fully understand the power of simple semantic versioning rules. Learn more about semantic versioning and versioning pinning to automate deployment.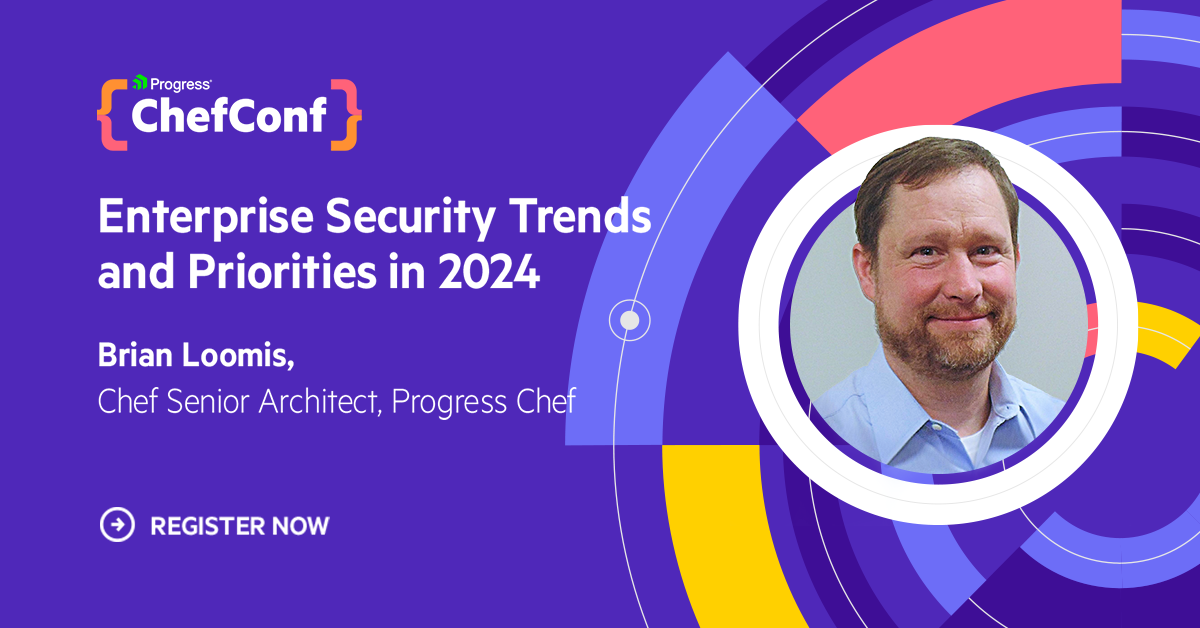 Enterprise Security Trends and Priorities in 2024 – Brian Loomis, Chef Senior Software Architect, Progress

Join Brian Loomis, Senior Software Architect at Progress Chef, for a discussion of recent security events, how Chef policy supports responsible disclosure, how we are thinking about Zero Trust as a development organization and what it means for your organization.

Security & Compliance Track


A Whole New World: Building Security Into Containerized Apps - Emily Rodriguez, Software Engineer, MITRE Safety Automation Framework (SAF)

Join Emily Rodiguez, Software Engineer from MITRE SAF how Chef InSpec and other tooling can help address the challenges and solutions of an increasingly containerized world via automation. Rodriguez will provide security guidance for containers using Vulcan and community examples using Sophos Factory to publish MITRE SAF containers, address container scanning considerations using container-aware Chef InSpec scanning and discuss the future needs for container security.

Recipe for Success: Ensuring Compliance, Security and Stability with Progress Chef and JFrog – John Chiao, Manager, Strategic Enterprise Solutions Lead, JFrog
In this session by John Ciao, Manager, Strategic Enterprise Solutions Lead, JFrog, to learn how Chef's configuration management and JFrog's universal binary repository manager can be used to enforce compliance policies, secure artifact management and ensure consistent configurations across the software delivery pipeline.

Configuration Management Track
Troubleshooting Large Chef Deployments - Dan-Joe Lopez, DevOps CoE Global Team Lead, SAP
Dan-Joe Lopez leads an in-depth conversation about the ins and outs of larger Chef deployments. Lopez will address how to troubleshoot issues like connectivity and server performance in HA clusters using a best practices, demo-based approach.


Lesson from 12 Years of Progress Chef Development - Joe Nuspl, Principal Engineer, Workday

In his breakout session, Joe Nuspl, a former ChefConf speaker and a member of the organizing committee for DevOpsDays, will highlight useful patterns to use and anti-patterns to avoid. This advice will help attendees do the right thing with Chef while promoting the right technical change across your organization.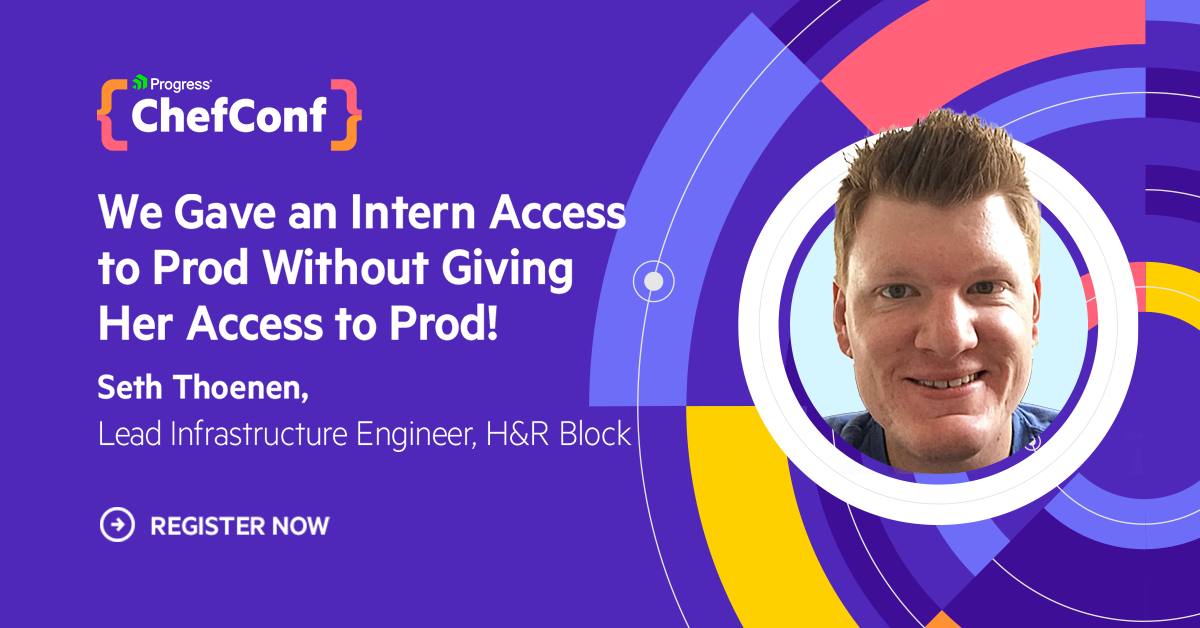 We Gave an Intern Access to Prod Without Giving Her Access to Prod!

- Seth Thoenen, Lead Infrastructure Engineer, H&R Block
Seth Thoenen gave a brand-new intern access to make changes to production systems without granting her local administrator access to those systems. Attendees are invited to see a real-life look at how we accomplished this at H&R Block by structuring Chef Cookbooks, Chef Policies, Azure DevOps Pipelines and Azure DevOps Repositories to allow a developer to make changes to production systems via code by submitting and merging pull requests.

Munich
Configuration Management

Progress Chef: Into the Data-Verse - Brittany Woods, Senior Engineering Manager, eCommerce Platforms, The LEGO Group

Brittany Woods discusses the ways you can leverage the data within Chef to help feed critical business systems and help paint a complete picture of your infrastructure across your organization. Join this deep dive into the DevSecOps dataverse!

Now We're Cooking with Git Actions (Repository Integrated CI/CD Pipelines) - Mike Butler, Solution Architect, Chef, Progress and Corey Hemminger, Customer Architect, Chef, Progress
Corey Hemminger and Mike Butler discuss in this slide-free demo presentation how easy it is to use Cookstyle and Test Kitchen inside of repositories using GitHub Actions and GitLab-CI. They will walk through the configuration options and demonstrate how you can add these checks to your Git Repos in no time flat. They will then configure their pipeline to deploy the Chef Supermarket and/or the Chef Infra Server.
Security & Compliance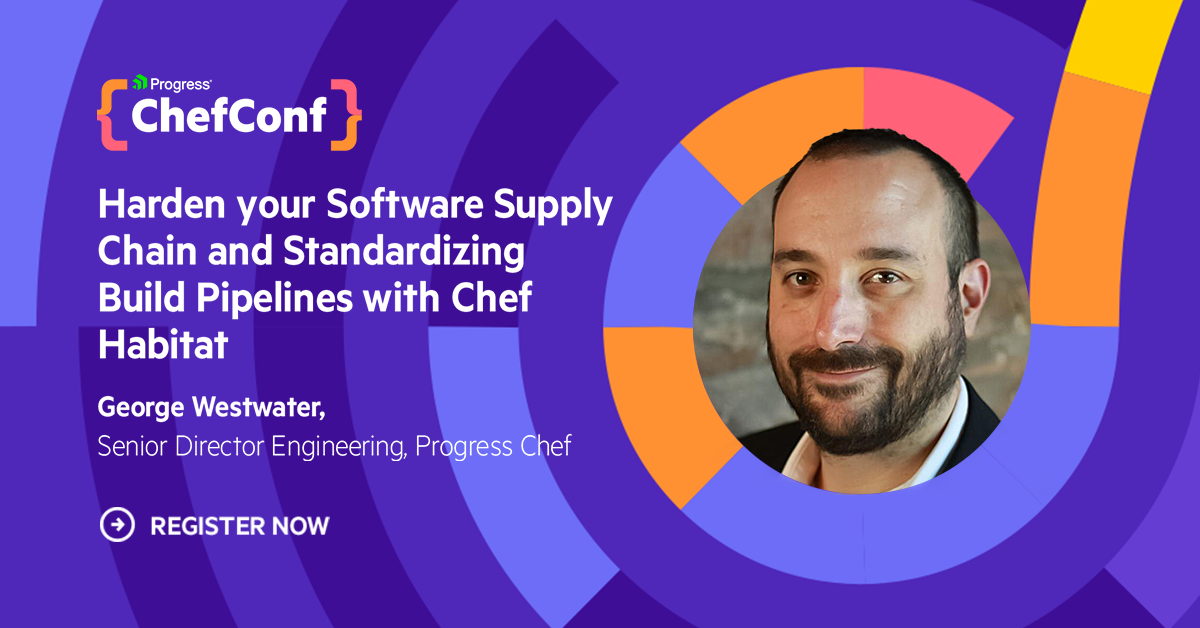 Harden Your Software Supply Chain and Standardizing Build Pipelines with Chef Habitat – George Westwater, Senior Director, Engineering, Progress

George Westwater delves into the capabilities of Chef Habitat, as a key component in your application security posture. Discover how Chef Habitat's data can be used to explore application dependencies and standardize the build process throughout the supply chain. Westwater will explore the advanced features of Chef Habitat that contribute to secure software supply chains, such as cryptographic signing, artifact provenance and integration with vulnerability scanning tools.


Cloud and Container Security – The Chef Approach – Sharan Rayakar, Product Manager, Progress
Sharan Rayakar teaches attendees how to extend their infrastructure as code approach to a policy as code and extend your compliance efforts to include your cloud-native efforts - including securing public cloud services from Amazon, Azure, etc., along with your Kubernetes container through a DevSecOps approach focused on continuous compliance.

DevSecOps Strategy and Leadership


The Startup DevOps Playbook: Achieving Success on Day One – Aman Sharma, CTO and Co-Founder, Dinnerfy
Organizations of all sizes and types are turning to DevOps. In many cases, organizations look to their peer counterparts to learn but it's also important to consider industries with various demographics so that you can consider different perspectives. As with many people that thrive in the startup world, Aman Sharma has experience with four early-stage startups, going from disaster to bliss DevOps.


An Overview of Open-Source Governance Models for Community Leaders – Mithun A. Sridharan, Founder & Chief Content Officer, Think Insights
Mithun A. Sridharan introduces seven popular open-source governance models and offers guidance on choosing those that are most appropriate for your open-source projects. Mithun discusses active participation in projects, community engagement, decision-making, transparency and accountability as well as ensuring project sustainability.

Successful DevOps Outsourcing Using a "Third Party First" Approach – Michael Georgopoulos, DevOps and Automation Architect, European Chemicals Agency (ECHA)
Michael Georgopoulos presents how his organization, the ECHA, managed to fully outsource DevOps by utilizing the correct tooling, contractual clauses and internal structuring with Chef playing an integral role in their DevOps automation journey.

Will you be at ChefConf this year?
There's no doubt that this year's ChefConf is going to be a can't miss event, and our speaker lineup is evident of that. But, ChefConf '23 is not just dedicated to panels, as the conference is going to feature presentations about Chef's product roadmap for 2024 and offer plenty of opportunities to network with like-minded members of the DevOps community. One of the
newest feature of this year's conference is our offering of a free Associate Chef certification as part of our Learn Chef platform.
ChefConf '23 is looking to be a complete event for the DevOps community.