Author:
Aaron Kraft
Aaron Kraft was the VP of Engineering for Chef at Progress.
---
Chef Automate and Infra Server Critical Update for AWS RDS January 2022
A critical update for Chef Automate was released on Wednesday, January 5, 2022, and should be applied by Monday, January 17, 2022, for any customers using Chef Automate in conjunction with AWS RDS to ensure service is not disrupted.
Read more
---
Is Chef vulnerable to CVE-2021-44228 (Log4j)?
On December 9, 2021 Progress Software was made aware of a critical vulnerability in a common Java logging library call Log4j.  Links to additional resources describing the vulnerability and its origin are included at the end of this post.
Read more
---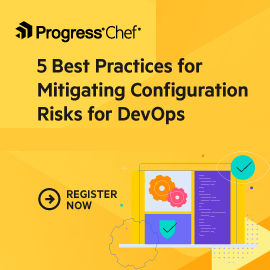 FOLLOW @CHEF