Author:
Dion Stewart
Dion Stewart is a coach, mentor, and developer. He helps organizations improve their product delivery value streams, addressing practices from product discovery through DevOps. For the last few years he has helped organization bootstrap Dojos, where he is able to combine his interests in learning models, organizational change, and product development.
---
Fulfilling the Need for Continuous Improvement with DevOps Dojos

By Joel Tosi

By Dion Stewart
In The DevOps Handbook: How to Create World-Class Agility, Reliability, and Security in Technology Organizations the authors describe "The Three Ways" – the underlying principles forming the basis for all DevOps practices.
Read more
---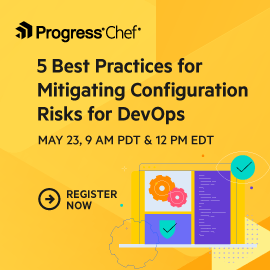 FOLLOW @CHEF