Author:
Joel Tosi
Joel Tosi focuses on helping organizations create learning environments where teams can create interesting products, not just features. Starting with Target and helping other organizations since, Joel has been leveraging Dojos as a way to uncover what is holding back organizations and teams. Having spent many years working deep in technology as well as coaching teams, Joel believes in the dojo approach as it has not only helped teams adopt and grow new skills but Dojos have helped organizations improve.
---
Fulfilling the Need for Continuous Improvement with DevOps Dojos

By Joel Tosi

By Dion Stewart
In The DevOps Handbook: How to Create World-Class Agility, Reliability, and Security in Technology Organizations the authors describe "The Three Ways" – the underlying principles forming the basis for all DevOps practices.
Read more
---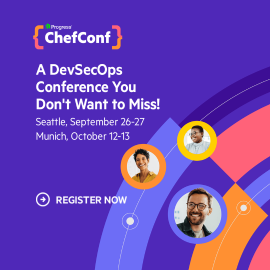 FOLLOW @CHEF