Author:
George Westwater
George Westwater is a Director of Software Engineering at Progress Chef, focusing on Application Delivery, Endpoint Management, and a new Chef Labs group to help Progress Chef innovate. George brings 25+ years of experience in software development, architecture, consulting, and IT leadership. George is a passionate technologist who feels just as at home in the board room as he does writing code.
---
Release Updates for Chef Infra Client 18
Announcement about changes in the release of Chef Infra Client 18. We are now introducing a new step in the process, a Release Candidate (RC).
Read more
---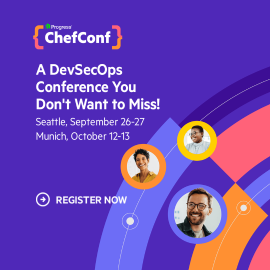 FOLLOW @CHEF