Author:
John Tonello
John S. Tonello was a Technical Marketing Manager at Chef.
---
Getting Started with Chef Infrastructure Management in 30 Minutes
Whether you're new to automation and configuration management or just new to Chef Infrastructure Management Automation, it can be difficult to know just where to begin. Two new how-to videos are now available to walk you through the steps to get you up and running with Chef quickly. Chef Infrastructure Management consists of several components that are critical to any enterprise automation deployment.
Read more
---
Chef Guide: Accelerate test-driven development with Chef Workstation and Test Kitchen
Whether you're new to Chef or an old pro, Test Kitchen can be a boon to anyone looking to dive into test-driven automation practices and rapid code development.
Read more
---
Getting started with Chef Automate in public clouds or on-prem
With the launch of Chef Infra Client 17 in April, there's never been a better time to dig into the Chef ecosystem, infrastructure automation, continuous delivery, and configuration management with Chef Automate, the dashboard tool that allows you to see all your Chef activity in real-time.
Read more
---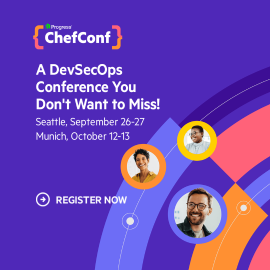 FOLLOW @CHEF