Author:
Torsten Volk
Managing Research Director for Hybrid Cloud, the Software Defined Data Center, Machine Learning and Cognitive Computing at Enterprise Management Associates.
---
IT Automation – The Foundation for a Successful Container Strategy
Editor's Note: Torsten Volk of Enterprise Management Associates recently published Ten Priorities for Hybrid Cloud, Containers, and DevOps in 2017. This research report and decision guide is for any enterprise that is adopting DevOps, hybrid cloud, or containers. We've asked Torsten to give some additional insights into successful container adoption based on his research.
Read more
---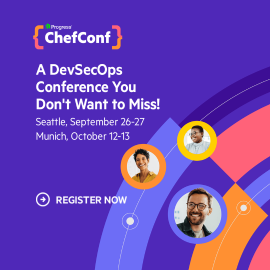 FOLLOW @CHEF