Category:
Acquisition
---
A new look for Progress Chef
Today we're announcing new branding for Chef and all our products, and we wanted to take a second to introduce the new look and feel.
Read more
---
Progress' Commitment to the Chef Open Source Community
Since the acquisition of Chef by Progress there has been a lot of opportunity for us to intentionally make decisions around the amazing products that Chef provides. The same products that all members of the Chef Community (past, present, internal and external) have had a big part in shaping and building.
Read more
---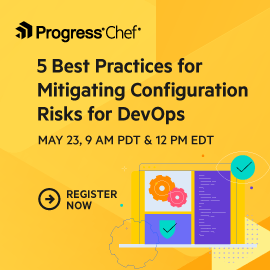 FOLLOW @CHEF