The Event
Kansas City, Missouri is known for Jazz and BBQ, but within the IT community, it's increasingly becoming known for its DevOps community. With more than 600 members associated with the local DevOps Kansas City Meetup group, the inaugural DevOpsDays KCMO was ready to be kicked off. More than 200 practitioners were in attendance at the Musical Theater Heritage venue. The organizers put together a great event that you'd never guess was in its first year.
Chef Table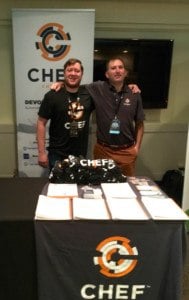 At least a dozen sponsors setup tables in the common area, enabling casual discussions during breakfast. A steady stream of attendees visited each sponsor, pursuing a mix of information to aid them with workplace challenges as well as professional growth.
At the Chef table, according to my informal estimates, the majority of our conversations focused on answering questions pertaining to our commercial platform, Chef Automate, and technical discussions on InSpec, our open source project for compliance automation. Judging by this crowd, managing security as code is definitely a growing demand.
Speakers
Each day, four different speakers presented for 30 minutes on cultural and/or technical topics. Pauly Comtois of Hearst Business Media kicked off the keynotes with his presentation on building a DevOps Enterprise Community. His talk was very well received and covered many of the topics outlined in The Phoenix Project, the essential reading material for everyone attending their first DevOpsDays.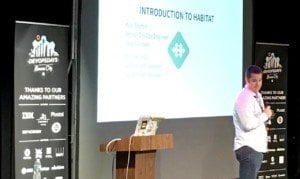 Afternoons consisted of various Ignite talks. I'm still in awe of Ashmita Sarma. She's a high school senior whose presentation style had me thinking she'd been presenting at IT conferences for years!
Aaron Blythe of Hearst Business Media presented "Failure and the Third Way". His talk focuses on continual improvement and taking risks.
It was also very cool to see Kyle Sexton from New Context present "Introduction to Habitat". Habitat is a new open-source project from Chef for application automation.
Open Spaces
Following Ignite talks, attendees split up for three hours of open space discussions. One of the open space sessions I attended focused on how to incorporate security within DevOps. Our discussion centered on how to elicit early participation from security/audit staff who typically don't engage until just prior to code release. Managing security as code was another hot topic. The group was responsive to and eager to learn more about InSpec. In particular, the group was interested in how it could be leveraged by those who aren't yet using Chef.
After Party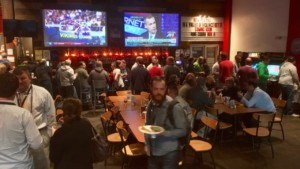 IBM sponsored an excellent Day One after party at Tapcade. The event featured a taco bar, adult beverages, and all the classic video games one might wish for. I couldn't resist Tapper, Spy Hunter and TMNT. The only thing I was missing was a pocket full of quarters.
Overall, the organizers put together a wildly successful event that I'd never have guessed was in its first year. I'm eager to return again next year.
Get Involved