We are excited to announce the availability of Chef in the Azure Marketplace. Users of Azure are now able to instantly launch a Chef server with the Management and Reporting features enabled. Coupled with the ability to launch Azure Virtual Machines with Chef preconfigured, users are now able to have a complete Chef solution at the click of a button.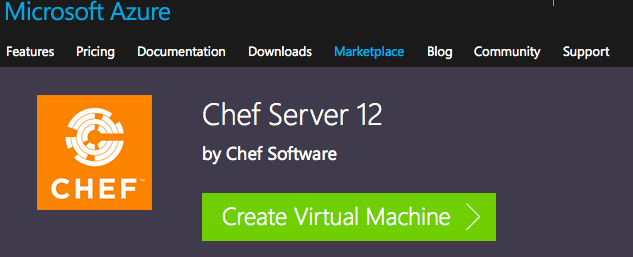 Currently, the Azure Marketplace Chef Virtual Machine allows customers to "Bring Their Own License" for the Chef Premium Subscription Features. Users can still use the Premium Features for 25 nodes at no charge. Alternatively, users can disable the Premium Features and continue to use the Open Source components of Chef.
Release of Chef to the Azure Marketplace highlights Chef's continued support of the Microsoft ecosystem, and Microsoft's continued commitment to Chef. It's the latest step in the relationship that was announced earlier this year, and we are excited to continue to grow with Microsoft as a key partner. Stay tuned for more announcements with Microsoft at ChefConf 2015.