The recent years have been full of disruption and massive changes. IT leaders would have panicked had they had known at the beginning of 2020 that their entire workforce would have to move into the virtual world within the next five months. Given the rapid change, IT teams globally had to find meaningful technology-enabled ways to transition into a remote work environment without compromising employee and customer experience management while maintaining seamless business continuity.
Endpoint Management, Then and Now
IT endpoint management used to be an uncomplicated game—managers used custom images while configuring systems to get new employees ready for work. This was an easy manual process, and systems were quickly deployed with desired configurations, applications, and security settings. Even during deployment, issues about specific systems were identified and resolved with minimal impact on other devices in the network. Servers used to reside within physical data centers where they could be identified and accessed whenever required.
Today, endpoint management is anything but foreseeable and amicable. Users bring their own devices into the workplace and run their applications to make work convenient and flexible. Organizations often allow browser-based third parties to manage operations, where users can retain full administrative privileges over their devices. Servers have also changed massively, no longer likely to be entirely physical entities located in a data center but either a hybrid model between physical and cloud servers or entirely cloud models controlled by administrators. As a result of massive changes that we have witnessed over the recent years, opportunities in IT have expanded, some of which have been capitalized upon by organizations.
Let us look at how endpoint management has shaped up in 2021 and the trends it will be set for the years ahead.
# 1: Remote Work, BYOD, and the Growth of WFH
This is the most important trend. Last year, even companies who were against a work-from-home policy were forced to jump into the remote work revolution overnight. Thankfully, this sudden change has awakened organizations to the challenges associated with working remotely. As a result, organizations are working on the opportunity to provide better endpoint management and security tools to enable virtual workspaces.


#2: Cloud Before On-Premises
Managing and automating endpoint tasks from the cloud is no more a choice. This dynamic, striking transformation from on-premises solutions to cloud-based solutions has been accelerated by the advent of remote work. The preference for cloud or hybrid models over physical ones is becoming increasingly evident now, with a more scattered workforce than ever before. Endpoint configuration as well as security management through cloud has made things easier and faster.


#3: Cyberattack Prevention and Remediation
IT teams used to secure laptops, meter the corporate network, and thoroughly vet employees' favorite applications back when everyone worked in offices. However, can they uphold the same stringent security level for employees' diverse, personal devices, and routers that are present back at home? According to a report by Gartner, pandemic-related phishing attacks rose by 667 percent with the onset of the pandemic. This means that attackers find remote work setups more vulnerable to security issues than gated office setups. This only reinforces the need to minimize human intervention and maximize automation wherever possible to prevent all loopholes that can serve as gateways for hackers. The disruption caused due to the work-from-home approach is set to drive more attention to endpoint security.
Complexities Surrounding Endpoint Management
The average enterprise worker regularly employs more than two different devices to perform job tasks. On average, half of all business tasks are performed when workers are physically off-premises from the business, and 93% of companies rely on IT services hosted on environments not controlled by the industry, such as public clouds. Collectively, these practices create complex management requirements that overburden traditional manual end-to-end device management approaches and, in many cases, render them ineffective. Further challenging the sustainability of long-accepted endpoint management processes are, growing requirements for security assurance in application delivery, and increased expectations from the workforce in terms of speed and consistency in endpoint configuration management. Today's workers expect to use the devices they want in the way they want while achieving instant, on-demand access to all the IT resources they require. However, satisfying these demands often introduces security vulnerabilities while increasing management efforts and related costs. Modern businesses must adopt more dynamic and intelligent management processes and automated solutions to adapt to increased requirements and environment complexes effectively, without sacrificing employee or customer experience.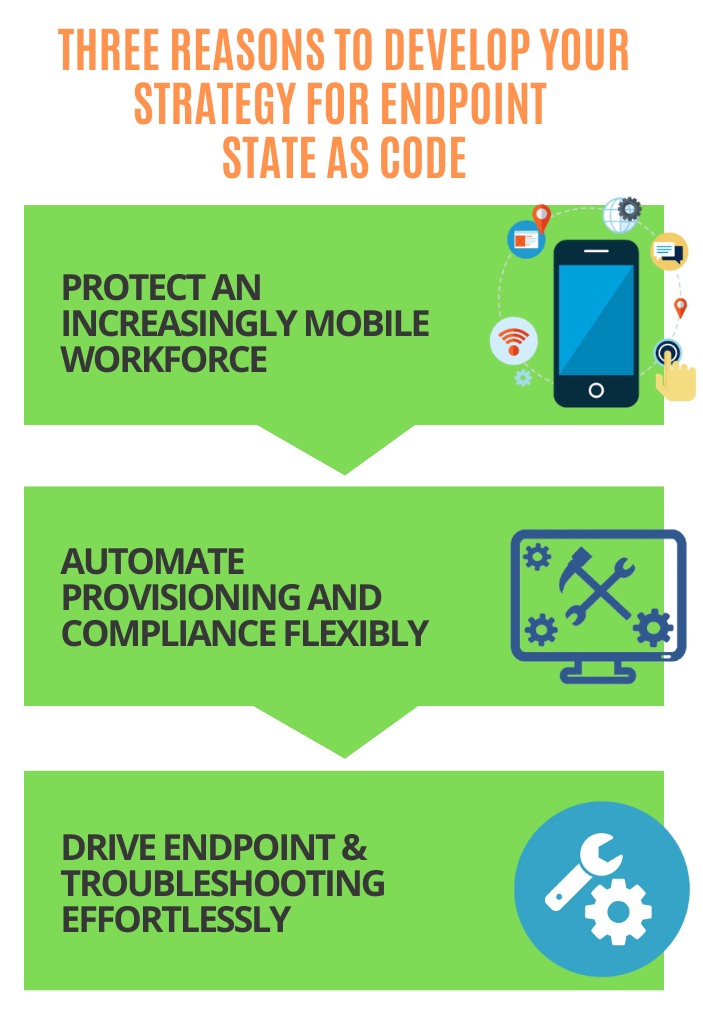 Managing Endpoint State as Code With Chef
Managing configurations, and security policies with MDM solutions has been challenging for IT Teams since the onset of remote work. But with Chef, IT administrators can quickly implement, declare, and configure management capabilities through comprehensive automation engines. This use case of treating laptops or desktops as any other endpoint, allowing Chef to manage a server on-premises or in the cloud, is not exclusive. Chef Desktop combines Infrastructure config management automation along with security and compliance management automation to manage your entire endpoint state seamlessly. The automation of the entire infrastructure helps in solving some of the repetitive issues that sysadmins/IT Managers might face on a daily basis. This eliminates mistakes and time wasted arising from manual processes, thereby increasing organizational velocity. Chef can help automate the infrastructure configuration, update management, and continuous compliance of your laptop/desktop estate, helping your organization maintain consistent configuration and compliance standards across your enterprise. Furthermore, it allows you to gain continuous visibility into the configuration and compliance state of IT resources across the enterprise using a single tool.
Benefits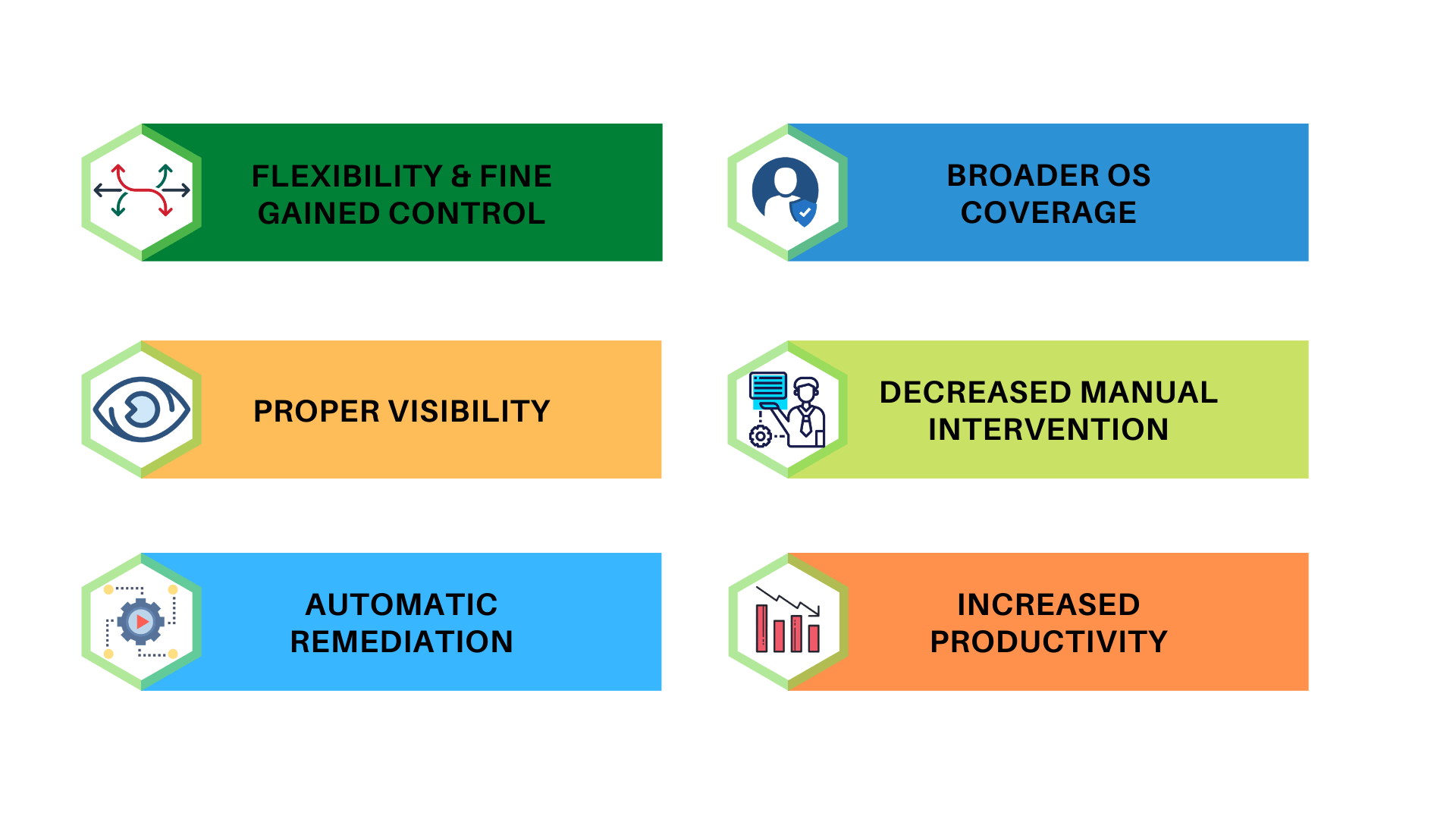 Join Our Webinar to Learn More
All this is just a taste of what we have in store for you. Register now for our webinar on November 17th, 2021, at 9:00 AM PT. Our webinar hosts, Sudeep Charles, Senior Manager, Product Marketing and Chaithra Mailankody, Associate Product Manager at Chef, will showcase how you can declare endpoint state as code and automate workflows to help avoid manual errors with Chef Desktop. Don't forget to get your questions ready for the Q&A session.