Tag:
Terraform
---
TapHere! Technologies and Progress Chef's Longtime Partnership Empowers Federal IT Teams to Achieve DevSecOps Successes
The TapHere and Chef Progress partnership enable federal organizations to benefit from deep government sector expertise, leveraging proven DevSecOps automation technology known for its continuous secure applications and infrastructure delivery.
Read more
---
Infrastructure Testing and Compliance with Chef and Terraform
This blog discusses how modern configuration management and provisioning tools, such as Chef and Terraform, use the concepts of infrastructure as code and policy as code to deploy secure instances in the cloud.
Read more
---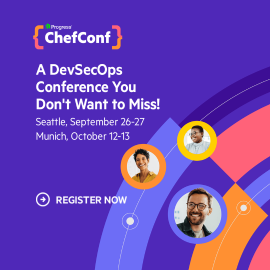 FOLLOW @CHEF