Author:
Sharan Rayakar
Sharan is the Product Manager at Chef.
---
Secure your Cloud Native Environments Holistically
Enterprises need CSPM tools to power the source of truth for your cloud infrastructure, to report whether the configuration of your resources meets the best practices prescribed by various industry groups.
Read more
---
Infrastructure Testing and Compliance with Chef and Terraform
This blog discusses how modern configuration management and provisioning tools, such as Chef and Terraform, use the concepts of infrastructure as code and policy as code to deploy secure instances in the cloud.
Read more
---
Product Announcement: New Chef Infra Server Automate Functionality and EOL Updates for Chef Manage and Backend
EOL Notice: The end-of-life (EOL) dates for Chef Manage 2.5.x+, Chef Backend 2.x have been extended from December 31, 2021 to December 31, 2022.
Read more
---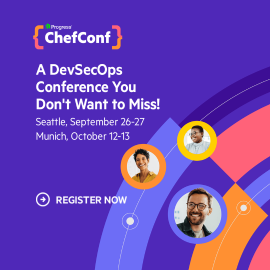 FOLLOW @CHEF