Author:
Matt Ray
Matt is Chef's Manager/Solutions Architect for APAC. Currently based in Sydney, Australia. He's been with Chef for 6 years in a wide variety of roles including Director of Partner Integration most recently.
---
Data Day Austin
As part of Data Day Austin Opscode Technical Evangelist Matt Ray will walk attendees through launching a multi-node Hadoop cluster, and then show them the right direction to build their own. Matt will show them how Chef works and why it's relevant to Big Data.
Read more
---
Upcoming Webcast: Automating Zenoss Core with Chef
Configuration management, automation and monitoring are a compelling combination. This session will explore the new Zenoss Core cookbook for Chef. The presentation will walk through cookbook and discuss the inner workings, while providing a live demonstration of a Zenoss server being deployed and automatically monitoring Chef-managed nodes. Registration: Opscode Webex http://bit.
Read more
---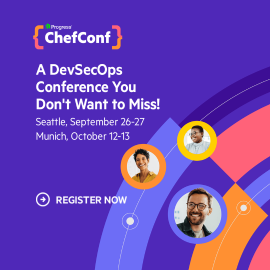 FOLLOW @CHEF