Author:
Sheila Breysse
Sheila is the Partner Marketing Manager of the Marketing team at Chef. Sheila has been at Chef for over a year driving our cloud partners marketing strategy and execution. She has over fifteen years of experience marketing in the technology industry.
---
Relativity's Cloud Theory Becomes Reality with Azure, Chef, and 10th Magnitude
Bringing your companies platform to the cloud with the goal of developing software with speed requires a solid strategy and key partner integration. Relativity, an e-discovery platform for litigation, internal investigations, and compliance projects, realized together with Microsoft Azure, Chef Automate, and 10th Magnitude, this could be a reality.
Read more
---
Updating to Chef 14 on AWS OpsWorks for Chef Automate
April was a big month for us at Chef. During this month we released Chef 14, a friendlier easier Chef. With more than 30 new resources added, this is, by far the fastest and easiest to use, Chef version yet.
Read more
---
Chef and Microsoft Azure e-guide to infrastructure as code
Chef and Microsoft have released an e-guide on infrastructure as code (IaC) on Azure. IaC gives you the basic structure that allows systems to replicate automatically across any number of virtual machines, cloud instances, or containers – in a matter of minutes.
Read more
---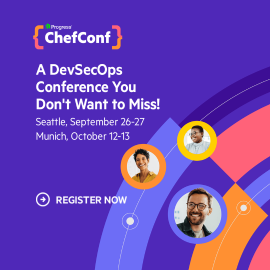 FOLLOW @CHEF