Since the advent of cloud computing, organizations have been aggressively moving their infrastructure components to the cloud. "Organizations are advancing their timelines on digital business initiatives and moving rapidly to the cloud in an effort to modernize environments, improve system reliability, support hybrid work models and address other new realities compelled by the pandemic," said Brandon Medford, senior principal analyst at Gartner. Gartner also noted that increasing global cloud adoption could lead to a rise in spending on public cloud infrastructure by over 20% in the next year.
While digital transformation strategies for some organizations mean hosting everything on the cloud, for others, a hybrid model with some components on the cloud and some on-premises still seem ideal. Nevertheless, managing multi-environments or multi-OS touchpoints has become complex, although processes have become faster and more efficient.
To make IT fleet management easier, we introduced Chef SaaS Beta– a solution for infrastructure and compliance management that runs on the cloud. All the proven on-premises Chef offerings, now on the cloud, with Chef SaaS. Here are some of the features you can see in our first version of Chef SaaS:
Infrastructure Management:
Automate your infrastructure configurations from the cloud with Chef Infrastructure Management. Codify your entire diverse infrastructure running different operating systems at scale. Eliminate the hassle of manually configuring systems that often lead to numerous avoidable errors. Focus on meaningful tasks while Chef gets all your systems ready. Fast, secure, and consistent configurations across the entire IT fleet, whether in physical, virtual, or hybrid environments, with just a few clicks.
Compliance Management:
Chef's automated security and compliance management feature prevents security incidents in your physical, cloud, or hybrid IT fleet. Use customized profiles to define your organization's compliance policies or use Chef's built-in CIS benchmarked compliance profiles. Guarantee fleet compliance with continuous audits that detect issues and use Chef's customizable remediation content to automate the remediation of detected issues – all from the cloud.
Visibility Dashboard with Chef Automate:
Single pane of glass to view and manage all your Chef deployments from the cloud. Soon after you sign-up to Chef SaaS, an instance of Automate is set up with your preferences. Start Chef Infra runs with a few clicks and monitor the status of configuration on every node in the fleet. Track nodes that pass compliance audits and detect non-compliant ones to prioritize them for automated remediation. Detailed visibility into all your Chef deployments, from a single console.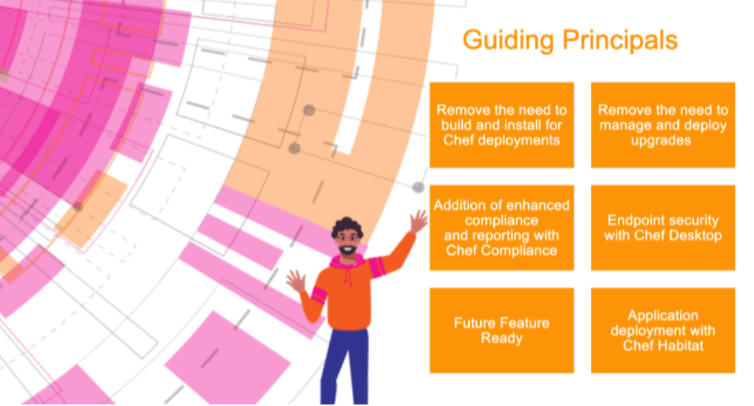 In today's landscape, IT professionals need to deploy systems at scale. Those systems may be on-premises, in the cloud or, a combination of both. Automation is essential for organizations to standardize processes, increase employee productivity, and avoid losses due to inevitable human mistakes. Chef SaaS allows you to see how Chef can manage your Chef deployments on the cloud and enable you to get to work faster.
We are starting our Chef on the cloud journey with the Chef SaaS Beta version launch to offer users a chance to try Chef Infra and Compliance features with Chef Automate. Also, new releases in Chef SaaS versions will include all the updates we release to the on-premises Chef products making sure you never miss out on any update if you're using Chef on the cloud.
If you haven't signed up for the Chef SaaS Beta yet, you should now! Seats are limited, so hurry before they fill up.
Why Join Chef SaaS Beta?
The Chef SaaS Beta program allows you to get early access to the product before anyone else. In return, you will get early access to the product, which can be used for your development or testing purposes. You will also have a chance to work closely with the Product team in helping shape the product based on your feedback, use case, and requirements. Finally, the Chef SaaS Beta program is a low-risk engagement where the only investment you would be making is the time to try the product and share feedback.
If you are interested in joining the Chef SaaS Beta, use the below link to contact us, and we will reach out to you with the next steps.
Join our Webinar
To discuss Chef SaaS Beta and showcase its features, we are conducting a webinar on November 10th, 2021 at 9AM PT. From infrastructure to compliance, manage all your Chef deployments on the cloud with Chef SaaS. Attend the webinar to see how.
This webinar will:
Demonstrate how Chef can deploy a version of Automate in the cloud
Review current workflows that Chef SaaS supports
Inform users how they can sign up for the Chef SaaS beta program