Tag:
Chef SaaS
---
Taking Policy-As-Code to the Cloud with Chef SaaS!
Progress Chef's 'Policy as Code' approach has changed how organizations configure infrastructure and define compliance policies. Chef SaaS includes a version of Chef Automate that brings the Policy-as-Code approach to the cloud along with Chef Infra and Chef Compliance.
Read more
---
Transition from AWS OpsWorks to Progress Chef and Plan for the Future
Progress Chef and AWS have a solid and deep relationship that cuts across multiple aspects of the Progress business, which drives our combined commitment to our customers. In this blog, we will discuss the options AWS OpsWorks users can explore to continue leveraging Chef products to manage their infrastructure.
Read more
---
Introducing Chef SaaS Beta: Join the program!
To make IT fleet management easier, we introduced Chef SaaS Beta– a solution for infrastructure and compliance management that runs on the cloud. All the proven on-premises Chef offerings, now on the cloud, with Chef SaaS.
Read more
---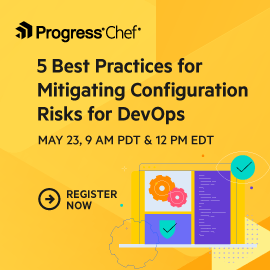 FOLLOW @CHEF