A solution for speed, consistency and security.
The digital transformation accelerated by the COVID-19 pandemic has led organizations to rethink their initiatives and plan newer, advanced means to address challenges associated with business service delivery and seamless customer experiences as business complexities and user expectations grow. As a result, organizations are increasingly focused on workflow automation initiatives to stay relevant through this rapid wave of digitization that is continuing to change the fundamental way various stakeholders operate. This blog addresses some key challenges that might impact organizations and how Chef can enable IT teams to proactively overcome them through automation.
Challenges Associated with Managing Large IT Resource Fleets
Improved employee experience leads to improved customer experience. This is reaffirmed by The Trends in Workflow Automation 2021 report published earlier this year by Salesforce. And the sudden upheaval in lifestyles of employees and customers alike has taken a toll on their experiences. Most executives have noted that their employees work longer hours now, often doing repetitive tasks that call for automation. What were once incremental changes are now urgent needs. Automation tools have therefore become the need of the hour, especially when security, and employee experience are among the top five priorities for IT leaders. Here are some challenges that organizations are looking to overcome while managing an ever-growing fleet of IT resources.
Consistency of configuration across devices
Elimination of error-prone manual processes
Inconsistent and seasonal security audits
Remediation of security and compliance vulnerabilities
Centralized management of diverse, distributed devices
Why Automation is Key to Scaling Business Operations
While automation has established its presence in every sphere, processes within the IT industry lead the way in testing and initiating all automation endeavors. Automation has paved the way for a much faster, simpler, and consistent approach to processes in every field of software, leading to better software delivery and improved employee as well as customer experiences. While most automation tools focus on infrastructure configuration management, an ideal solution should aim at bridging every gap that hinders productivity, from infrastructure configuration management to time-consuming security and compliance management processes. The objective should be not just to eliminate error-prone manual processes, but also to add speed, consistency, and security to delivery and management. In a world where time is money, automation contributes to enormous amounts of time and costs saved over manual repetitive processes and the personnel required to do them, thereby directly contributing to revenue goals.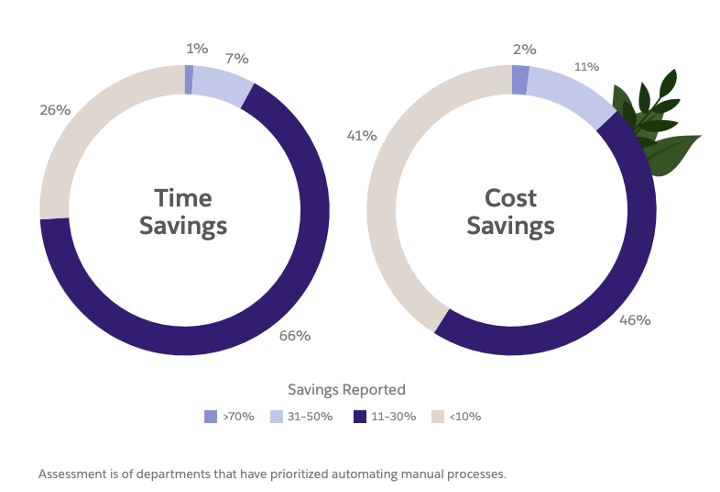 Source: The Trends in Workflow Automation 2021-Salesforce Report
Where to Begin Your Automation Journey
Automation is a broad term that covers myriad diverse processes within an IT ecosystem. However, there are some processes that take precedence over others in a large, distributed network of IT resources. Since infrastructure serves as the foundation that enables all business processes inside and outside the organization, the primary focus of your automation endeavors should be around automating infrastructure configuration management, followed immediately by security audit and vulnerability management automation. Here is a quick list of things that can help you plan your automation strategy to ease the burden on your employees and help them have more time to focus on meaningful strategic tasks that boost overall productivity:
Infrastructure configuration (installing, configuring, provisioning, etc.)
System updates and patching
Scheduled jobs
Security sweeps/audits
Compliance checks
Drift remediations
Performance Monitoring (Server health, uptime, availability, etc.)
Code promotion and application packaging
Performance visibility
How Chef Empowers IT Teams Through Automation
Knowing how the fleet of end-user devices grows as organizations scale with geographically distributed teams, more remote employees, and BYOD, Chef empowers IT teams to constantly monitor the fleet and remediate non-compliant devices to ensure that the fleet remains secure while setting up multiple configurations in a large number of devices.
Automation is essential for organizations to standardize processes, increase employee productivity and avoid losses due to inevitable human mistakes. Chef enables IT teams through automated detection of configuration drifts and quick remediation through automation. The use cases for Chef Desktop include:
Zero Touch Enrollment and Provisioning
Automated Software Deployment and Management
Efficient and Tuneable Policy Setting
Centralized Visibility
Easy Application Rollout
Auditability and Traceability
See Automation in Action in Our Webinar
If any part of this blog so far sounds relatable to you, you should scroll below and register for our upcoming webinar immediately. We will examine everything mentioned above and more with practical real-world processes and scenarios. Our Chef Desktop product is designed not only to automate manual repetitive infrastructure configuration management tasks for your end point devices but also incorporates security and compliance management automation features. This means infrastructure and security can be managed from a single centralized console through policy-based automation. Empower your workforce to focus on more strategic tasks and let Chef take care of your everyday routine manual tasks with its robust automation engine.
Join our Webinar to Learn More
This webinar will:
Highlight workflows that provide a common pipeline for compliance and dependency management.
Enable you to use tools to gain deep insights into the workings of your organization, including serverless chef-client runs and data from multiple Chef servers.
Enable you to set up automated compliance assessments in your workflow pipelines.