Author:
Sarthak Vasal
Sarthak Vasal is a Technical Product Intern at Progress Chef. With a background in computer science, Sarthak brings a blend of technical expertise and business acumen to the table. As part of the Technical Product Marketing team, he is driven by a deep fascination for the journey from an idea to a fully realized product and its market success.
---
Policy as Code with Chef: Mastering Policyfiles
Diving into the concept of Policy as Code (PaC), this blog sheds light on the advantages of using Policyfiles and how to use them for a polished cookbook management experience.
Read more
---
Streamline Your Infrastructure Management Using Chef Attributes
Discover the key benefits of utilizing Chef attributes in your infrastructure management process. This blog post dives into why leveraging attributes is crucial for seamless configuration management.
Read more
---
Why and How to Switch from ChefDK to Workstation
Encouraging users to switch from ChefDK to Chef Workstation, this blog explores why and how it can be done.
Read more
---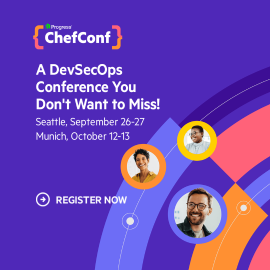 FOLLOW @CHEF