Category:
Security
---
Reducing Misconfiguration Risks Through DevOps Best Practices
Explore how DevOps practices reduce misconfiguration risks, prevent breaches, and leverage infrastructure as code (IaC) for cybersecurity.
Read more
---
Infrastructure as Code (IaC) Security Best Practices
Any organization looking to secure their IaC should consider these 5 best practices for securing infrastructure as code.
Read more
---
Deconstructing Compliance and Security – How is it Different?
The blog discusses how compliance and security differ and how Chef can help you achieve compliance while maintaining a secure infrastructure.
Read more
---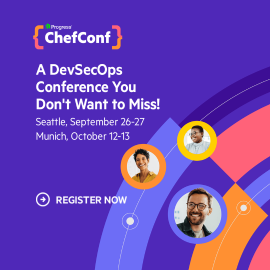 FOLLOW @CHEF