CSPM Solutions
Cloud Security Posture
Management (CSPM)
End-to-end compliance, governance, and visibility for multi-cloud environments
What is CSPM?
According to Gartner, Cloud Security Posture Management or CSPM solutions "manage cloud risk through the prevention, detection, response, and prediction of where excessive cloud infrastructure risk resides based on common frameworks, regulatory requirements, and enterprise policies."
CSPM comprises all the security and compliance management tools an enterprise uses to maintain a secure multi-cloud environment without any misconfigurations or vulnerabilities. A CSPM solution automates security and compliance across the entire cloud infrastructure. In addition, it provides visibility into cloud security and identifies compliance risks and configuration vulnerabilities.
Why is CSPM a Necessity?
Adaptability and ease of deployment drove the massive technology shift to cloud-based services and applications. But this shift in infrastructure deployment and management has brought in its share of vulnerabilities and threats. As a result, securing multi-cloud/hybrid environments and maintaining a consistent security posture is challenging for most enterprises.
Enterprises use a multitude of cloud-based services and tools, which makes it difficult to manage and maintain security.
Such a tool sprawl limits visibility into specific services, and IT teams have difficulty handling security and compliance continuously.
Limited visibility and lack of knowledge around Cloud security controls make it hard to implement Cloud Governance.
Misconfigurations create vulnerabilities and expose sensitive data leaving organizations open to legal and financial threats.
Traditional on-premise tools and processes cannot ensure continuous compliance for cloud and cloud-native Apps.
When the development and operations teams don't have visibility and control over the application or service environment, there is a higher risk of misconfigurations and vulnerabilities left unresolved, compromising the security posture.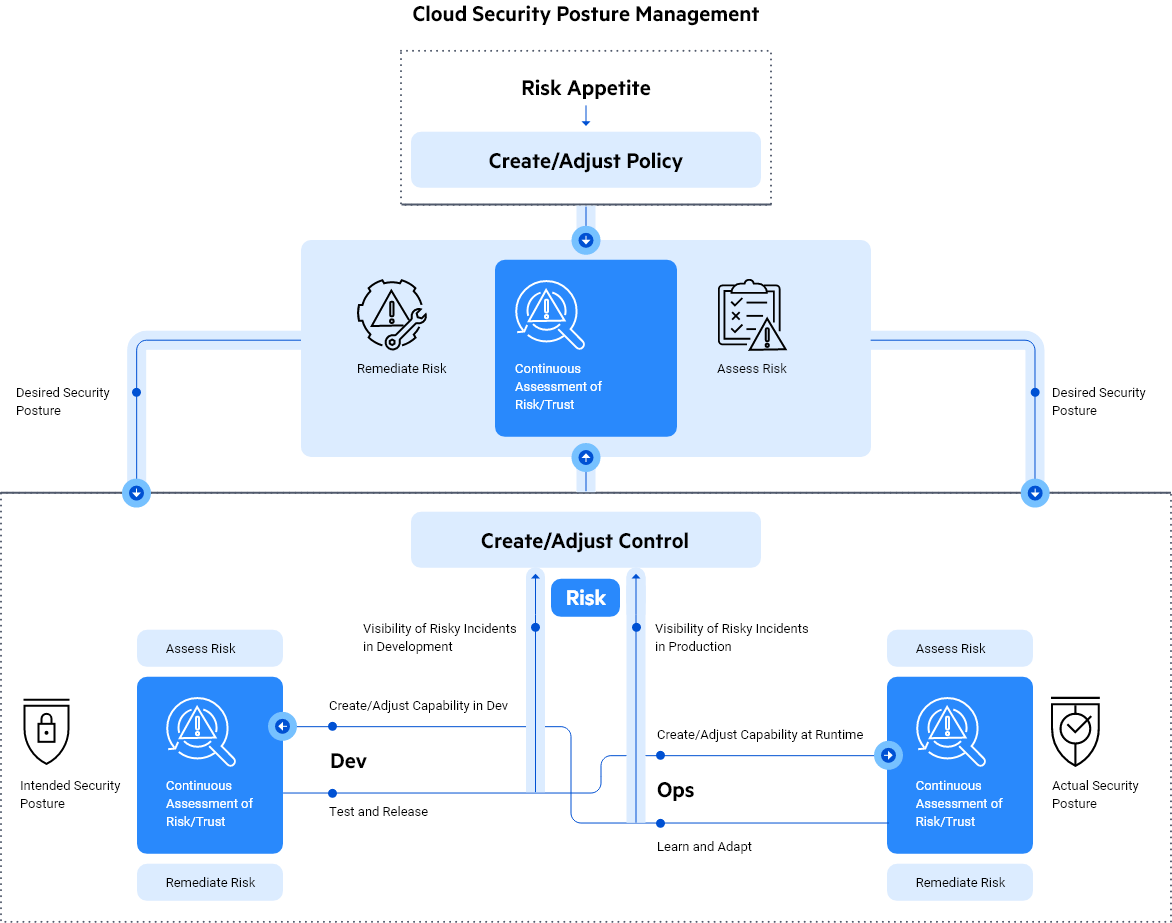 "CSPM should be thought of as a continuous process of cloud security posture improvement and adaptation with a goal to reduce the likelihood of a successful attack and the damage in the event an attacker gains access"- Gartner Innovation Insight for Cloud Security Posture Management.
Level Up Cloud Security With Chef
Audit, Monitor, and Detect Vulnerabilities
CSPM identifies misconfigurations and policy changes through constant auditing, reducing the risk of unresolved vulnerabilities that lead to costly breaches.
Visibility into Cloud Configurations
CSPM consolidates data threats from misconfigurations in multiple cloud environments into a single central console giving you end-to-end visibility.
Continuous Security Posture Management
CSPM ensures cloud environments are always secure and compliant through continuous auditing for policy changes, enforcement, and risk assessment.
CSPM Solutions
Provide policy visibility and ensure consistent enforcement across all providers in multi-cloud environments.
Scan your compute instances for misconfigurations and improper settings that could leave them vulnerable to exploitation.
Monitor cloud environment, new instances, and storage resources like S3 buckets.
Audit HIPAA, SOC2, and PCI DSS compliance.
Conduct risk assessments against internal frameworks and CIS Benchmarks, DISA, and STIG frameworks.
Verify the performance of operational activities such as critical rotations.
Introducing Chef Cloud Security
Chef Cloud Security offers clients comprehensive visibility into their security posture and helps limit the risk of misconfigurations in cloud-native environments. In addition, Chef Cloud Security can scan and validate the state of thousands of systems and resources through automated workflows.
Streamline Audits: Audit cloud accounts for security risks and misconfigurations across hundreds of configuration settings and enables consistent, unified multi-cloud security.
Enable Continuous Compliance: Ensure assets are always compliant with CIS benchmarks with Chef's audit and remediate features.
Policy as Code: Chef's Policy as Code approach merges infrastructure, security, and compliance concerns into a single framework.
Robust Reporting: Detailed and easy-to-read scan reports that include descriptions of all security controls and their results.
With Chef Cloud Security
Additional CSPM Resources
Whitepaper
Building Security Resilience in the Cloud with Cloud Security Posture Management
Download Now
On-Demand
Webinar
Handling Cloud Security Posture Management at Scale
Register
On-Demand
Webinar
Secure your Cloud Infrastructure with Kubernetes Security Posture Management (KSPM)
Register